It is fitting that the first collection I'm introducing as a contributor to HipSilver is BiniChic, not only because my own closet is filled with handbags designed by Susan Unger but she is also totally a HipSilver herself!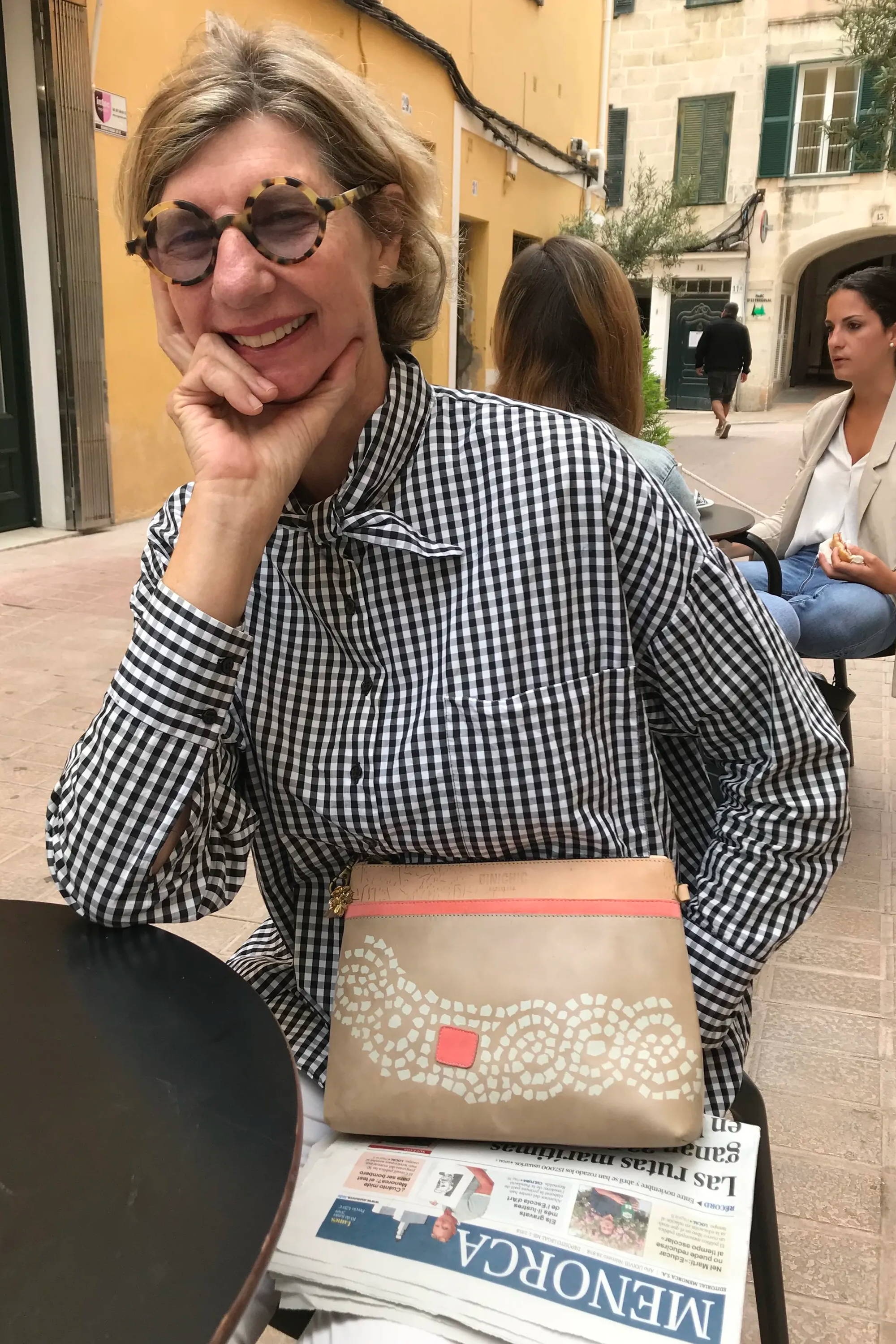 Motifs of Menorca, the island off Barcelona, have inspired Susan's art for decades. Her silkscreened genuine leather handbags and totes are inspired by waves from the azure coves, grasses and insects, and stone patterns from the island's ancient culture.  
Some may remember Susan's luxurious dresses offered at Bergdorf Goodman in the 1990s. While working as a fashion designer in NYC, Susan always kept her house on Menorca, where she had married an artist in her twenties and raised her daughter Ona. (Ona means wave in Catalan.) The pieces labeled Ona Villier are part of a mother/daughter collaboration. All her handbags have a relaxed, raw edge, bohemian vibe. Her luxurious bags, supple and beautifully screened, only get better with wear.
On Menorca, the word Bini denotes 'house of', so Binichic couldn't be more apt as the rustic and natural side of the Mediterranean lifestyle. The word artisanal is overused today, but Binichic's handbags are the real thing – made by hand in small quantities on beautiful Menorca where artisans have been crafting leather for generations.
Our design philosophy infuses every BiniChic product. Our heritage as a mother/daughter design team is centered in the Mediterranean, the place we love and call home. This is where Susan began her fabled atelier of hand-screened luxury fabrics and fashions in the '70s and where Ona now gives the designs a fresh, contemporary edge. We believe in timeless beauty, nature's elegant inspiration, and the rich history of Mediterranean art, culture, and craftsmanship. - BiniChic Team
---