Cha Cha's House of Ill Repute - Profile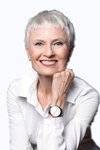 Introduction by Judith Boyd
Nothing is more exhilarating to me than supporting and engaging with the headwear community. My love for the art of millinery is my passion and discovering milliners who create magnificent hats is my joy in life.
The first milliner to be featured on HipSilver is Cha Cha, who designs and creates hats in New York City. I first met Cha Cha about three years ago, when I had the honor of visiting her studio. She was warm, fun, interesting and engaging. Her staff was welcoming and her workroom was abundant with activity that instantly drew me in. The studio was filled with racks of gorgeous headwear, and it was clear that she was talented and skilled.
I immediately fell in love with a distressed, ruby velour top hat with tonal lambskin leather piping on the brim. The leather piping is a signature detail. It holds the brim shape well and makes the hat a "Cha Cha." Distressed black tulle and a black/red wrap-around pheasant tail feather complete the look. This chapeau accompanied me back to Denver, and to this day it is one of my favorite hats.
My collection of Cha Cha's hats continues to grow over time. It is with much excitement and pleasure that I have the honor of introducing Cha Cha to HipSilver, where the audience for her exquisite headwear will continue to evolve and grow. There is nothing more captivating than a well made chapeau!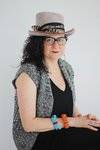 Cha Cha began studying the craft of millinery in 1994 under the tutelage of the highly regarded milliner, Anne Allbrizzio. After completing the millinery program at FIT she began designing for private clients. Soon she started collaborating with the East Village designer Mark Montano.
In August of 2001 she opened her millinery design studio, Cha Cha's House of Ill Repute. Since then she has steadily built a unique clientele ranging from NYC to Tokyo to Shanghai. All hats are made in NYC.
They are hand blocked on Cha Cha's collection of vintage and specially designed blocks using the finest quality straws and felts. She scours local & regional flea markets for vintage millinery, antique trimmings and feathers to inspire her designs. Her signature style includes hand dying blended with free form blocking techniques which give the hats a unique vintage look while remaining modern and wearable.
Cha Cha's hats have attracted the attention of the entertainment industry. She counts several celebrities as devoted clients including Alicia Keyes and Justin Timberlake. Her hats have also been purchased by Queen Latifah, Pink, & Christina Aquilera among others.
To order a custom-made hat, Click Here
Cha Cha shows us how to make a hat. Watch the video below!
---