Sherwood Forest Design - Profile
Introduction by Soli Pierce
Soli Pierce, Treasures Curator, is an ardent environmentalist, clean food advocate, and community activist who we honor for her passion, talent, and commitment. A true HipSilver, Soli will showcase unique gifts created by and for the Silver generation as well as treasures created to help support people and their communities.
TREASURES for You. TREASURES to Give.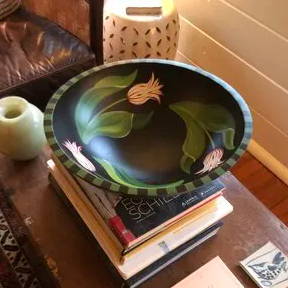 Hand-painted in her Cortlandt Manor studio, Soli Pierce of Sherwood Forest Design creates gorgeous, hand-turned, maple-wood bowls featuring lush depictions of fruits, veggies, and other garden delights. They have been featured at the Philadelphia Museum of Art with the Cezanne show, at numerous events at the Museum of Fine Arts, Boston, and sell around the world as far as Barney's in Tokyo. These heirloom quality bowls will stand up to a lifetime of daily use, thanks to an 8-layer application of non-toxic clear glaze. Just wash in warm water and mild soap, and fill with great delights and your favorite dressing. Each bowl comes with an Easy Care Guide, a Recipe for a Good Salad, a Recipe for a Good Life, and a green market bag to continue to fill your life with goodness.
We know you will treasure yours for years to come.
"Nature has long been my inspiration and muse. My bowls are a combination of painting and natural materials that invite celebration and togetherness around the table. I believe in slowing down and serving up green goodness -- that's my recipe for a good life." - Soli Pierce
---