Chicken á La Tulipe Recipe
"Age" actress, Jeanne Moreau, wrote "age does not protect you from love, but love, to some extent, protects you from age." So for whomever you love, whether a romance of years or a new flirtation, we have a few Valentine suggestions and a tried-and-true recipe by one of our own HipSilvers, Jonathan Reynolds.
---
Jonathan Reynolds, a writer for talk hosts such as David Frost and Dick Cavett, first published his recipe from the romantic Greenwich Village restaurant, La Tulipe, in the New York Times in 2000.
Mr. Reynolds, a bachelor, discovered that a man cooking for a woman was wildly seductive. Every woman I've asked claims that a man cooking especially for her is an aphrodisiac. The New York Times also tested men cooking for men and women cooking for women and it had the same effect. So, if you want to impress, make this dish and you'll have people falling all over you.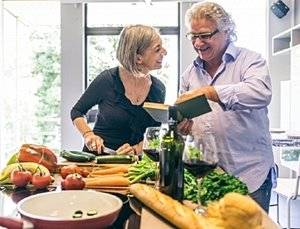 ---
About La Tulipe
La Tulipe was awarded 3 stars by the New York Times. It was a Greenwich Village restaurant located in the basement of a New York Brownstone. You walked through a bar reminiscent of Paris, back to a cluster of tables in a chocolate colored room with pretty tulip sconces and flower arrangements - more often than not of tulips. A couple, named John and Sally Darr, owned the place. John ran the front of the house and Sally cooked. She took her time doing it and the waits were notoriously long. But one was rewarded with a romantic evening and a memorable dining experience. Julia Childs was one of its many fans. Sadly, the place closed in 1991. For Valentines Day we thought we would recreate one of their famed recipes.
---
Before we get to our recipe, let's get ready to host the object of our affection with some special Valentine's Day items.
Flowers are essential to any love courtship. Buy yours fresh that morning before you begin cooking. You'll need something beautiful to put them in when you present them.
Those flowers need something worthy of your love. We suggest a collection of vases from porcelain artist, Mary Anne Davis, who puts love into every piece she hand creates. We will showcase Davis Studios in the near future.
"Dishes are art supplies for adults" says Mary Anne Davis. Setting the table is an opportunity to express private creativity. Food is the next layer of the event. As a delightful ending to this marvelous meal, may we suggest these superb hand crafted chocolates from Chocolate Springs. If every aspect of the meal is considered and chosen with enthusiasm, the meal itself has energy and conversation flows like magic.
---
Chicken á La Tulipe
Yields two servings. Total Time 1 hr. and 45 minutes.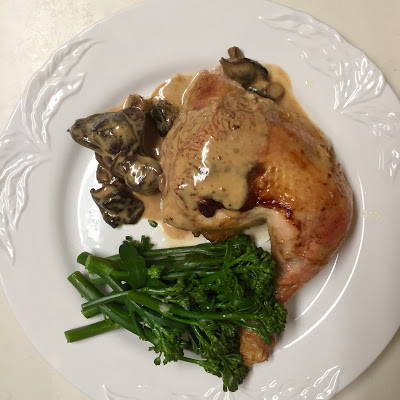 INGREDIENTS
1 ½ ounces dried shiitakes or other dried mushrooms
2 tablespoons Cognac
2 tablespoons butter, divided
1¼ cups light cream or creme fraiche, divided
1 3½-pound chicken, rinsed (neck, giblets and liver removed)
1 teaspoon salt, divided in half
Pinch of cayenne
¼ teaspoon pepper
¼ cup dry white wine
Preheat oven to 450 degrees and let mushrooms soak in Cognac 15 minutes. Drain, reserving liquid.
Sauté mushrooms in 1 tablespoon butter for 5 minutes; then add ½ cup light cream and reduce by half. Stir in ½ teaspoon salt and the cayenne.
Rub chicken with remaining butter and sprinkle with remaining salt and the pepper. Spoon mushrooms into the body cavity. Roast chicken on one side for 15 minutes, baste and then roast on the other side 15 minutes and baste again. Finally, roast it breast side up for 20 minutes.
Remove chicken from the oven. Throw away most of the fat from the pan, add the wine, mushrooms and reserved Cognac, deglazing, and flambé immediately. Reduce over high heat.
Shake mushrooms and juices from the chicken into the pot, add ¾ cup light cream and simmer for 5 minutes, until thickened. Taste for seasoning.
Cut the chicken into 8 serving pieces, arrange them on the platter and pour the morel sauce over them.
HipSilver followed the recipe almost "To a T". We even found dried morels…If they are a little rich for your pocketbook, we found a substitute that worked just fine. We used dried Shiitakes, three ½ oz. packages. Both the Morel and Shiitake mushrooms can be ordered from: Melissas.com
Monte Mathews adds a sweet finish to the Valentine's Day dinner with a wonderful Chocolate Soufflé Dessert Recipe - Click Image for recipe and original link! 
---