Vietnamese Mango and Prawn Salad Recipe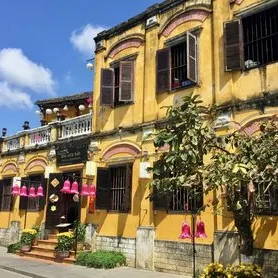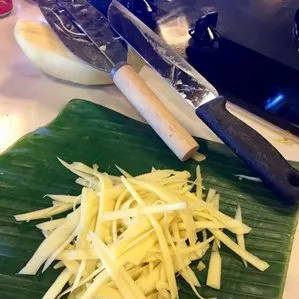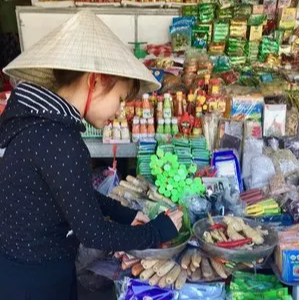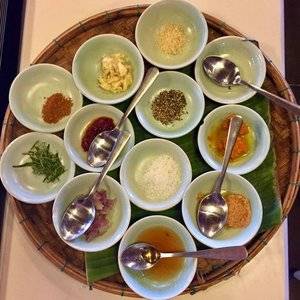 If you've read my Sterling Silvers Interview with Author Paul Theroux, you know that our meeting took place during a Silversea Cruise from Singapore to Vietnam and Hong Kong. My purpose on this trip was not only to interview this remarkable man, but also to cover the Culinary aspects of my trip for a well-known food website as well as my blog, Chewing The Fat. One of the most rewarding experiences of the trip, besides interviewing Paul Theroux, was attending Cooking School in the town of Hoi An, an ancient Vietnamese trading port dating to the fifteenth century.  
---
Vietnamese Mango and Prawn Salad
"Morning Glory Cooking School," located in Hoi An, a UNESCO World Heritage site, is the most well-known of Hoi An's cooking schools. Set on the second floor of a restaurant, these bright and airy classrooms are a joy to work in. Our instructor, Ms. Lu, has been working for her boss, Ms. Vy, since she was 14 years old. Some of the tales of her early employment were excruciating. Imagine spending an entire 8 or 9 or 10-hour day prepping a single vegetable. Somehow, Ms. Lu not only survived, she thrived; she now heads up Morning Glory.
The class began with a visit to the Central Market, a hurly-burly of a place with vendors selling everything from housewares to live crabs. After our tour through the lively market, we set off to the school which was a pleasant walk away.
Head Instructor Ms. Lu does have help. Said helpers provided the mise-en-place for the students which is likely the only way we could have created all four dishes in the time we did. Vietnamese food is no three to five ingredient wonder. Nine ingredients go into this salad, four into its dressing. But this is not at all hard to make. I was greatly aided in its preparation by a strange mandolin-like knife pictured here. You first use it to peel the Mango. Then, you make vertical cuts with a regular knife. Finally, the Vietnamese knife makes matchsticks as you slice through the mango. Lacking this knife, simply peel the mango and slice it into pieces to make matchsticks.
Once home, I recreated the dish. There's a new Korean Market in New York City at Broadway and 110th St., a perfect place to find the ingredients. I found almost all of what we'd used in Vietnam, including the essential Fish Sauce and Nuoc Mam. However, Hoi-An-Chili sauce was nowhere to be found. I went with Sambal Oelek, Ground Fresh Chili Paste which is easy to find in the Asian section of a supermarket. We used half a teaspoon so don't despair if you just want to use hot sauce or tabasco. I could have made my own Shallot Oil, but the quantity was 1 tablespoon; so, I substituted Sesame Oil. Finally, no Vietnamese mint was on hand, so I used an abundance of fresh mint. I also used the poached shrimp as a garnish on my salad, but you can toss the shrimp in with the rest of the ingredients if you wish to be more authentic. The finished salad was a big hit when I served it at dinner. This variation is well worth trying.
---
Ms Vy's Mango and Prawn Salad Recipe
Serves 4. Takes 15 minutes to make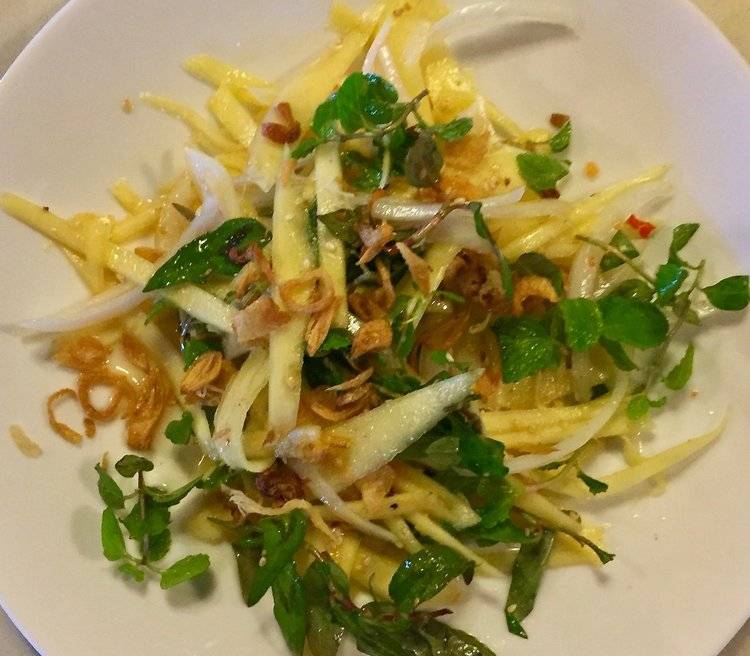 For the Salad:
1 Green Mango, sliced into long matchsticks
1 cup Onion, very thinly sliced
1 ½ cups of Mint
4 ounces of Shrimp (Prawns) poached for 3 minutes
1 ½ tbsp. Salad Dressing (Recipe follows)
2 tsp. Sesame Seeds, roasted
½ tsp. Hoi An chili sauce or Sambal Oelek or Hot Sauce
¼ tsp. Sea Salt
Pinch of Coarse Black Pepper
1 tbsp. Sesame Oil
For the Dressing:
1 tbsp. Lime Juice
1 tbsp. White Sugar
1 tsp. Nuoc Mam
1 tsp minced garlic and red chili pounded.
In a small bowl, make the salad dressing.
In a large bowl put mango, poached shrimp, onion, one cup of mint, 1 teaspoon of Sesame seeds.
Add dressing to the Mango mix and toss the salad.
Serve on 4 small plates and garnish with the remaining mint and sesame seeds. Season to taste with sea salt and coarse black pepper. Serve and enjoy!
---