Gail's guide to covering brown spots and perfecting your complexion!
Gail stopped to chat about specific tricks for Silvers to help cover brown spots and to cater to changes you might be noticing with your skin while still maintaining a natural appearance.
The products that Gail will swear by and are necessary for the steps in this article:
1.)The MAC Pro Palette Studio Finish Skin Corrector (six custom colors)
2.)A retractable lipstick brush(so you don't have to deal with taking tricky caps on and off)
3.) A 10x or 20x magnification cosmetic mirror (To make your application easier to see whether it's a vanity mirror or compact mirror, for home and on the go!)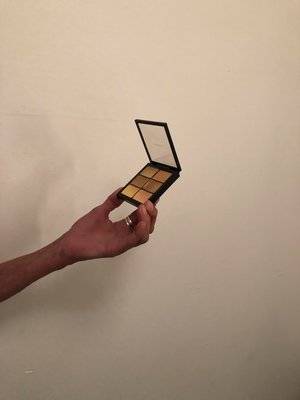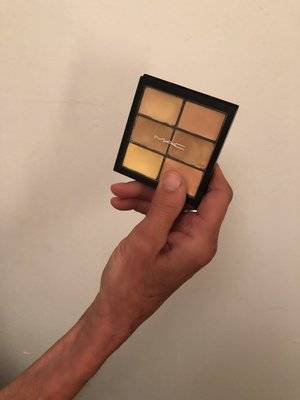 When talking about the MAC Skin Corrector, she said "It's a splendid product, absolutely wonderful, and can be used by men or women. It's a long lasting product and I've yet to find anything that can top it!"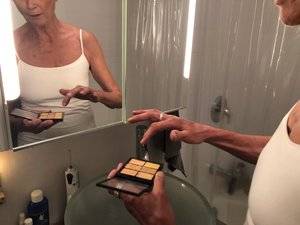 Gail's Steps to your Perfect Complexion
Step One: Mix
Gail: "There are six different shades in this concealer palette and what this does is it allows you to mix in order to get the correct color for your skin. As your skin color changes throughout the year, which it does due to sun exposure and seasonal weather, it's nice to have this one product and always be able match your skin tone perfectly. The different colors in the palette are meant for different individual uses as well. One color is meant for helping to cover dark under eyes, another is meant to cover blemishes, and so on. My skin has more yellow undertones than it does pink, so I tend to lean towards blending mostly with the yellow leaning color. I mix these colors with my finger, but you can also use a cosmetic blending palette and brush to blend them separately, if you'd like."
Step Two: Brush
Gail: "Grab your brush. I like to use a lipstick brush personally, because it has fine bristles and a fine point shape that allows me to do more delicate touch ups. I dab this with the concealer that I've mixed and just lightly touch it to the spot that I'm trying to cover up. Again, the fine point brush allows me to only put on the very tiny amount that I need and to be precise with where I want it applied."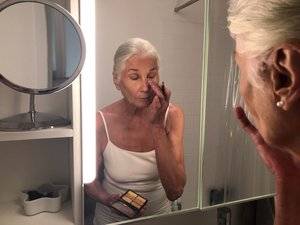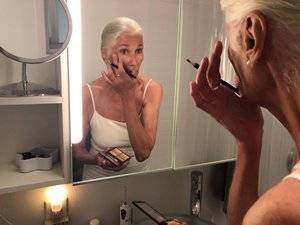 Step Three: Blend
Gail: "After a light touch of the Skin Corrector, you can then dab it with your finger or brush and start to blend around the brown spot. It completely masks it, or any blemish for that matter!
Aside from covering these target areas, you can use these colors in smart ways to improve your overall complexion! Yellow helps reflect light and brightens your face. So, I like to take a bit of the lighter yellow tone from my palette under my eyes and then blend it into the sides of my nose. Just by doing a little bit, your whole face will be glowing! With this concealer, you don't feel like you've got a lot of makeup on, you don't have any lines, and the marks that you want covered are completely gone!"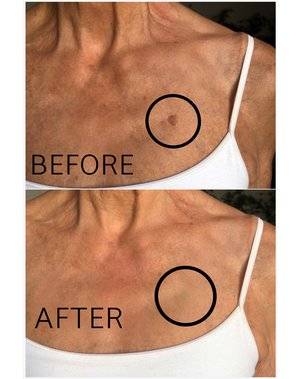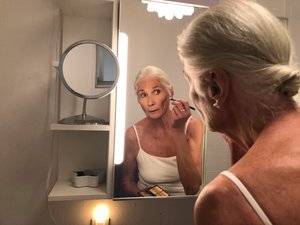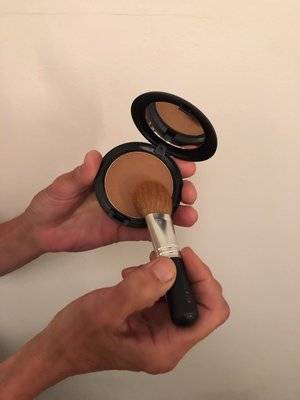 An extra tip from Gail's archive is to brush a light blush or bronzer underneath the chin and blend it out! This cleans up and refines your jaw line, gives you a natural pop of color, and creates a lasting effect throughout the day.
We at Hipsilver have curated a few recommended products needed to complete this routine. Take a look, practice at home, and spread the word about how Hipsilver's can maintain their perfect complexion all year round!
The Skin Corrector works equally well for men and women!
---