Astrological Insights for Cancer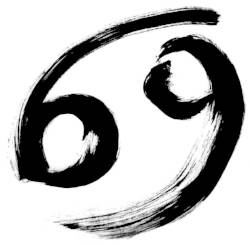 CANCER. JUNE 21 TO JULY 20
The Sun moves into welcoming, nurturing Cancer on the 21st of June. Here are your crib notes for how to bask in the warmth this month!
---
Cancer.
July 5th will be great for canoodling with your great love, you romantic soul, you. The Sun will be shining on Jupiter in your 5th House so you and your significant other and your family can all enjoy yourselves. But in general, this month is far better for money than for love! Which is just fine with you, dear friend, because Cancerians, deep down, really appreciate feeling financially secure almost as much as they adore being loved.
It would be good to tread lightly on the 12th when a New Moon eclipse in Cancer, opposes Pluto in your 7th House of Partnership and Marriage. Any emotional disagreement could snap out of hand under this aspect, so before arguing your case (even if you're in the right) better take a deep breath, center yourself, and live to fight another day. You're putting your focus on career and finance this month anyway, where you'll find yourself making excellent decisions, and consequent gains. Just leave the love-stuff and partnership issues for another, more emotionally generous month.
Best Days:  12, 13.         Challenging Days:  25, 26.
Aries. 
You'll probably be working late around June 28th my fiery friend, when the full moon will tickle your 10th House of Career. There's considerable success ahead if you tie up the loose ends now.
You've been running like the wind – that's your usual default speed, of course – but right now it would serve you better to stop running and turn inward, where you may be gifted with some surprising insights and a much-needed sense of renewal, too.
So instead of stressing against the inevitable delays you may encounter this month, please try to remember that slowing down is sometimes a good thing, even if it doesn't feel that way. This is a month to find balance and you can't do that while racing at top speed.
Your challenge this month is the tug of war between home and career (so what else is new, right?) Family members need you… finances may need work… there may be a crisis or two to cope with and your take charge talents may be called upon. You're built for speed and learning patience isn't comfy for you, so it may help to be aware that in June and July you can accomplish most by setting reasonable daily goals and trying to pace yourself. Things are percolating behind the scenes and taking some time to take it easier, this month will bring dividends later.
Great Days:  5, 6              Challenging Days:  18, 19.
Taurus. 
Your nature tends to nudge you into collecting sensory delights – you know, the external kind that reinforce and fulfill you on a comfort level. This month, your needs for home/hearth/ happiness are actually better served by skipping the collecting of the transitory goodies that often sustain you, and looking for fulfillment inside yourself and close to home. You have deep, powerful strengths within you that can make you a vast source of security for yourself and those you love. You are strong-like-bull, my friend and even though both eclipses (Solar on the 13th and Lunar on the 27th) affect you deeply, you can handle it all and then some! So this month, I seriously recommend that you take a deep breath and hunker down with those you love. (You know that's really one of your favorite sensory delights, anyway, you old softie!) Mercury's in your 4th House of Family, so this month brings a special gift: whatever you want to communicate will be received and understood by those you love, in a very profound way. So why not try to communicate everything you've always wanted to tell them from the 28th of June til September 5th, they'll love you all the more for this authenticity.
Best Days:  7, 8, 9.                 Challenging Days:  20, 21.
Gemini.
You should be happy and prosperous this month. June 26th to August 12th, feisty Mars is retrograde in your 9th House of both physical Travel and Travels of the higher mind. This transit will energize you to expand your skills and your mindset, but physical traveling isn't at its best, so it would be prudent to delay and trip you're considering til next month. You'll have plenty to keep yourself busy close to home as you'll be aware that generally super-brain is again brimming over again with ideas. It may have been resting a bit, my friend, and not taxing itself too much of late – but now it's time to get it percolating again at full speed.
Solar Eclipse on the 13th effects any financial strategies that need revamping. The Lunar Eclipse on the 27th is in your 9th House of Travels, so this would not be a good time to schedule a foreign trip.
Best Days:  10, 11.         Challenging Days:  22, 23, 24.
Leo.
Passion, purpose, performance! That's you this month, Leo dear. Just be careful about finances (never an easy task for you and your spirit of largesse!) from late July 9th to August 6th, when Venus may tempt you to go a little too wild even for you. Remember, you live in a world of your own, dear Sun King, so you're the only one who can demand wisdom of yourself! You might want to strive for extra empathy with a partner, however, (either business or significant other) on July 5th when Mars could cause some misunderstanding and general botheration. Why not just be your best, most generous self, rather than engaging in drama.
Yes, I know you thrive on drama, but 2018 is a dramatic year for everyone and that can cause explosions. This month, the Solar and Lunar eclipses will probably trigger some self-assessment for you and some redefining – but that's all to the good. This isn't your best month for travel, but in other ways it's probably quite a happy time. Mercury will make you even more adept than usual at communication, and that's really saying something, so you can connect with loved ones or business partners with great clarity and delight, if you just decide to let little annoyances go.
Best Days:  14, 15.     Challenging Days:  12, 27, 28, 29.
Virgo.
You may be taking romance quite seriously around the 28th of June and you'll be feeling open to romantic adventure in a freer spirit than usual.
Happy Jupiter is spending much of 2018 in your Communication House, so please feel free to speak, write, think, sell, market and PR yourself – eloquently and successfully! The eclipses this month will shake up the rest of the world quite a bit, but not so much you, my friend. Even though you may go through a course correction of some sort, you'll do it well and without much fuss and muss.
You'll probably reassess a few things because your analytical side likes tidiness, even if it isn't always achievable. Your spiritual and health regimens may become the focus of your analysis and redirection, so be open to the kind of small changes in these areas that can make a big difference.
I feel I should warn you of one annoying probability: your high tech equipment could go a little wonky this month – I know you like precision and it won't always be available. Try not to stress about that. After all, your love life and so much more, is so sparkly right now, you'd do well to just focus on the good stuff.
Best Days:  16, 17.         Challenging Days:  3, 4, 30, 31.
Libra.
You're bursting with creativity and happy as a clam (never figured out why clams are happy, but I'm glad for them and for you!) You may actually be happier than the world around you this month, and that can feel both lovely and a little disconcerting. Eclipses will be shaking things up wherever you look. Love, friendship and your tech life may be tested (or at least testy) because most of the world is in an emotional High E. Finances may worry you, when they're actually quite OK! Your career may demand a course correction because the rules of the game are changing for everybody at the speed of light. In short, this month is a somewhat disorienting one, but you are better off than most other signs.
Your receptivity to change, to joy and to enthusiasm for life itself, will give you the upperhand in this oddball month – so be well and prosper!
Best Days:  20, 21.                 Challenging Days:  5, 6.
Scorpio. 
Buckle up, dear Scorpio – this month may be a doozy! You're in great shape for career progress with unexpected doors opening because of shakeups in your industry or company. The general dramas of the eclipses and the condition of the world around you, may mix things up in unexpected ways and demand a shift of some kind. But all this is a good shift for you in the long run! Could be spiritual or personal or both, but this shift in perspective will bring some kind of transformation that's in your best interests.
Pluto the ruler of your horoscope is impacted by the solar eclipse on the 13th, so that would be a good time not to travel, but to stay close to home. The Lunar eclipse on the 27th will also affect you, as it happens in your 4th House of Family, so it's an excellent time to stay close to home and hearth, while being especially gentle with loved ones' feelings. This may not be the easiest month to navigate, but its changes and challenges are important and life-affirming in the long run. And besides, you more than most, are up to these challenges and might even feel exhilarated by them.
Best Days:  20, 21.                 Challenging Days:  7, 8,
Sagittarius. 
Hold your horses this month. I know that admonition isn't easy for a centaur is it? You'll need patience and that is definitely not your long suit. The chaotic world around you may not seem comprehensible, and I know you like to understand things! Good luck with that this month. So what's my advice for you, dear Sagittarian in this topsy turvy time? Sit tight. Contemplate. Meditate. Do Yoga and Qi Gung. Try to steer clear of the dramas that abound and use your lightning smarts to observe and assess. Maybe even think of this as an adventure. (You like those.)
You love to learn, to study, to find the core spirituality in everything that touches your world. This somewhat chaotic month with its dramatic eclipses will give you plenty to cogitate! Expect change – you're good at that. Enjoy your prosperity. Stay close to your loved ones and close to home. I know you love to travel, but there will be better months for taking the show on the road.
Best Days:  22, 23, 24.          Challenging Days:  10, 11.
Capricorn.
You love to tune out of emotional dramas, right? This month that will be hard to do, so forewarned is forearmed. People will need your steadying hand on the wheel.
As the Solar and Lunar eclipses make the world feel higgledy-piggledy, you may have to pitch in emotionally to shore up those you care about. You're good at being everybody's sensible Go-To, right? It's in your nature to steady the ship in turbulent waters. So just do your thing and bask in everyone's gratitude for your doing it.
The best news: Finances are excellent this month and quite creative. If you are a Creative, you have a leg up on selling your work. You may need to take a hard look at your long term strategies about money however, as the odds are you've been a bit unrealistic lately, which isn't like you, so you may want to reassess a strategy or two. Don't fret about it though – your instincts will be good ones. You'll feel quite inspired on July 14 and you'll see all the right moves clearly.
If your high tech gadgets can drive you a bit batty this month, so just know in advance it isn't you, it's the rest of the world that's out of whack.
You're ready to figure out how to get your long term game plan in best shape. Use this current burst of creativity to get the game going in earnest and you'll achieve great things.
Best Days:  25, 26.                  Challenging Days:  12, 13.
Aquarius.
You've got oodles of oomph and chutzpah this month! You feel energized and ready for battle, not just your usual cerebral self!
There could be career changes – shakeups in your company or career path could alter the rules of the game. Not to worry though, as any obstructions to your progress will probably be blasted out of the way – this is a month for happy surprises.
You may be inspired to have your old health regimen explore new ground. A new fashion or beauty choice may transform the way the world looks at you. A new insight may alter the way you look at the world.
All this newness is all to the good, so hang in through the changes, and every once in a while let yourself just enjoy the creature comforts you've earned with your cerebral gifts. Go with the flow, instead of thinking its up to you to be in charge of the tides. Opt for a more restorative, gentle way to treat mind and body to avoid burnout. Be good to yourself. Try for patience with loved ones and generosity toward everyone who may be experiencing chaos from the eclipse energies. You are better prepared than most to weather cosmic upheaval.
Best Days:  1, 2, 27, 28, 29.   Challenging Days:  14, 15.
Pisces
You're in great shape now for getting into even better shape! Mercury is in your 6th House of Health, nudging you toward health and fitness in a way that's both satisfying and fun. Fancy that!
Something's changing in your work life, too, my visionary friend. There are dramas being played out all around you because of the Solar and Lunar eclipses and pieces are being moved around on Fate's Gameboard. Meantime, you're off in your own fantasies, creative visions and dreams – interestingly, they are somehow connected to reality now, but you're just not sure how yet, so you're just following wherever they lead. Just as you're meant to – after all your sign produces the Zodiacs beset dreamers. There are fears lurking, too, because you have one of the great imaginations of the Zodiac and you're vibrating with all the changes around you as if you're a tuning fork set in motion by all the frequencies around you.
Not to worry. These gorgeous creative impulses of yours will find their way to beautiful fruition. Maybe just not this month.
Best Days:  3, 4, 30, 31.         Challenging Days:  16, 17.
---
Order your free horoscope wheel now! It's our gift to you,
when you order your online horoscope.
Click here
To order an in-depth Horoscope Profile…or a Compatibility Chart
for you and your significant other
A free horoscope wheel is our gift to you when you order!
---