Colloquium Depot - The Umbrella Project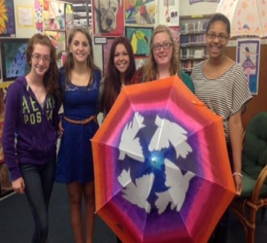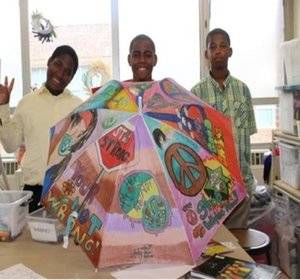 R. Aston Wall, the founder of
Colloquium Depot
, knows the pain of bullying first-hand. As a young, poor immigrant in New York, her accent and clothing provoked disdain and ridicule from her classmates. However, through her own experiences at Music & Art High School, she discovered how today's underprivileged youth can seek a brighter future through channeling their creativity.
The Umbrella Project comprises one of the Depot's creative projects, alongside Ban on Bullying and T.L.C. Musical. Youths between the ages of 12-19 express their inner selves through drawing on/painting umbrellas. The program reaches many diverse communities in the tri-state area including Children's Village, Dobbs Ferry, DREW HAMILTON Community Center, Sachem High School East, Seneca Middle School (in Sachem School District), Connect-A-Million-Youth Inc., and Fiorello H. LaGuardia H.S. alongside others.
The participants create these umbrellas under the Depot's overarching goal of transferring violent energy to create energy. Through practicing their crafts on these umbrellas, these adolescents practice expressing themselves peacefully and learn to cooperate with others.
If you'd like to support these efforts, please consider purchasing an umbrella on the foundation's website.  Each unique one contains the hard work and imagination of struggling youth -- the Colloquium Depot website. 
---