Bibi Jordan's Journey to Africa. "Naishapai" is "Happiness"
By Bibi Jordan
The exuberant welcoming song and dance had accompanied my arrival.
"We're so grateful to Malibu Strong and you for helping us" they said, referring to the fund-raising campaign I'd launched with the support of my Phoenix Sisterhood of Malibu women. For me, immersing myself in a Swahili-language learning challenge, turning it into a Pledge campaign for this Maasai community, and then accepting an invitation to visit Kenya had been key to overcoming the trauma of the Woolsey fire that destroyed my home and livelihood.
"You'll always be welcomed here with open arms," they assured me, "but, with one condition."
I scanned the horizon, an unbroken landscape of scruffy dry grassland and thorny acacia trees. Where exactly was my new home? As my eyes grew accustomed to the unfamiliar environs of Maasai lands adjoining the Nairobi National Game Park, I distinguished signs of homesteads nestled within clusters of shade trees alongside the occasional herd of Thomson gazelle and antelope.
A traditional community living in a metropolitan world, the Kitengela-Embakasi Maasai have replaced the customary grass bomas of the Maasai manyatta with modern homes built of cement and tile. I learned I would be hosted in one of these comfortable houses by Chief Nickson Parmisa because I had come to learn the art of the women of his community, who were renowned as expert beaders. But what was the condition I must now accept?
"You must dress as a Maasai!" they sang out as, en masse, they swept upon me with replacement garments, lifted my hair, and affixed adornments. As they retreated, I emerged dressed as a Maasai woman in a brown cloth reminiscent of the leather aprons the Maasai used to wear. Around my shoulders was a violet 'illkarash', a previously leather cape, and circling my waist was an "emoshipi", a wide-beaded belt. On my neck was an en'gootoo, a beaded choker, and placed on my head was an enkishili, a beaded tiara worn by a lady during special occasions.
"Now that you are a modern Malibu Maasai woman, we have made a special necklace for you and the strong women on Malibu" said the collective's jewelry designer, Phoebe Lasoi, whose name appropriately means 'fine person'. She put around my neck a beautiful yellow necklace made from Maasai beads and featuring a central pendant of the Malibu Strong wave.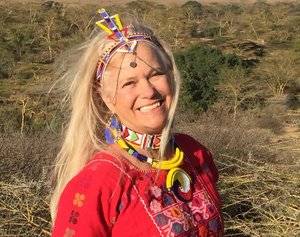 "This is a love letter from the women of the Olmakau Collective to the women of Malibu" she said, adding that each color had a special significance. "Blue is the color of water, the ocean of Malibu, and the water that quenches our cattle; Yellow is the color of hospitality, a virtue you were known for and that we, Maasai, revere. White is the color of purity and faith; it stands for our confidence in the future. Red is the color of fire and cows' blood; it represents the strength of Malibu Strong and the Maasai people. Together, these colors form the wave of Malibu Strong and carry a message of unity and strength from our Maasai community to your Malibu community."
Another woman, Frida Kimit, came forward to explain "We are so appreciative of the funds you are raising to sponsor me to go to Santa Fe to sell our beaded jewelry." The International Folk Art Marketplace had provided Phoebe with a grant to promote the Olmaku Collective's beadwork, but the women needed an additional person to work the booth and boost sales.  
"If we're able to sell all the beadwork, we'll be able to support our children's education for at least a year" Frida explained. Many of the members are single mothers whose sole income comes from a couple of tourist sales of a few dollars a day. A few days in Santa Fe, on the other hand, could earn them in excess of $25,000. The revenue from Santa Fe would enable the mothers to pay the 50% contribution required in Kenya to participate in the mandatory secondary education for their children as well as pay for uniforms, books, and food.
Later, Chief Nickson Parmisa elaborated that Sante Fe sales would also support scholarships for Maasai girls that are rescued from child marriage and genital mutilation. "While both are prohibited by Kenyan law and no longer approved by Maasai communities," he explained, "poor parents who can't afford to pay the public education fees sometimes resort to these practices, thereby claiming the girl is an adult which enables them to collect a bride price in cows and/or cash from her new, and often substantially older, husband."
"As a Chief, I'm grateful to the Malibu Strong community for empowering our women through economic participation in the world marketplace" He said. "And, in addition, Malibu can take credit for promoting women's education and women's rights."
"Our mothers and grandmothers, when teaching us how to bead, tell us 'A thread follows the path of a needle,'" added Angela Koloi to Phoebe's comments. "It means that which is leading will guide the others; Phoebe and, hopefully, I will be going to Santa Fe, and when we come back, we will have contacts and ideas for all of us to improve the entire collective's business."
"We're proud to have you wear our Maasai beadwork, both modern and HAPPY BEADS:
An unlikely string of events leads to a name-change and a new outlook.
"You've lost your home, but you've always got a home here" the ladies of the Olmakau Collective assured me as they enveloped me in embraces punctuated by stabs of wire protuberances from enormous beaded necklaces and head adornments. Their voluptuous bodies were warm and moist from a traditional movement, added Francisca Suyianka. "We, Maasai women, and you, Malibu women, share values of strength and perseverance, and we hope when you wear this necklace, you will be filled with the happiness you bring to us."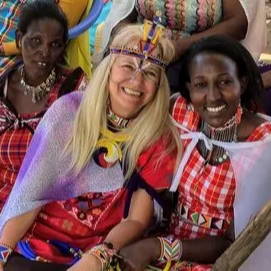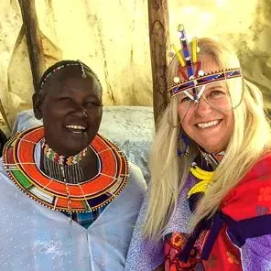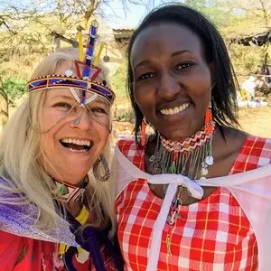 "For that reason," Phoebe said to me, "we are going to give you now the best gift of all, a Maasai name: Naishipaie, which means 'Happiness'".
With that, the group broke out again, clapping and swinging as they sang a song while dancing around me.
Enkai ai nchooki enkarana sidai - (My God give me a good name.)
Nai ai atoomono tamiayianaki enkarana naropil (My God, I pray that you give me a name that has a good aroma.)
Tamayianaki papa (Bless me, God)
Tamayiana iyiok, papa, (Bless us, God)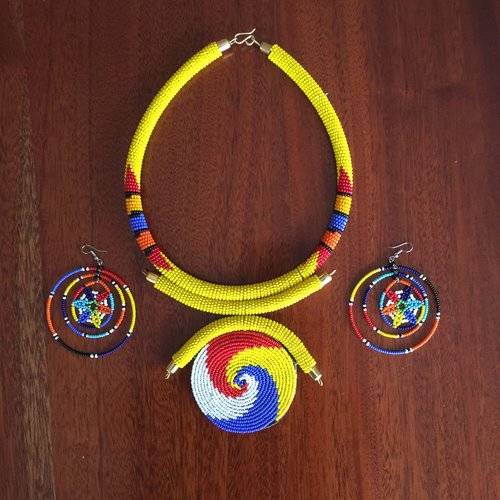 Indeed, I felt blessed that this strange string of events from losing my home to gaining new friends had resulted in a name that would fill me with happiness whenever I shared the story of my beautiful Malibu Strong Maasai necklace.
"Happiness is as good as food." Maasai Proverb
To contribute to the fund and bring the women from the Olmakau Cooperative to Sante Fe to sell their beads and fund girls' education and women's rights, go to:
Or, for donations with a tax deduction, please go to:
"One finger does not kill a flea."
(Unity is strength)
"A thread follows the path of a needle"
(That which is leading guides the others.)
"The survival of the Maasai culture has ceased to be a question; in truth, it is rapidly disappearing. And so the sweetness, pride, and beauty of life portrayed here takes on an added poingancy as they vanish like mists over the mountains of Maasailand."
Teplit Ole Saitoti
The Worlds of a Maasa Warrior
Good fortune does not always roar when it comes (You might already have it and not know it.)
---