Back Stairs to the Billionaire's Belt at Oil Nut Bay, Virgin Gorda, BVI.
By Janet Forman
Photos By Tom Houghton
'Billionaire's Belt' is a fitting moniker for this stretch of the Caribbean: A secluded sweep of calm seas and fragrant winds where Sir Richard Branson has chosen to reside. With home prices running in the serious eight figures, this is a pricey precinct, but we found a side door through the rental program at Oil Nut Bay that brings this rarified domain within reach, if only for a week or two.
"Oil Nut Bay is not a resort," stresses developer David V. Johnson who spent ten years searching the globe for an ideal location to build this unusual project. "It's a community of like-minded souls seeking physical, mental, and emotional health for their extended families, and to create a new way of aging." It's expensive indeed, but Johnson is transparent about costs, since "no matter how rich you are," he maintains, "you don't want to be taken advantage of." He's proudest of a letter from a buyer that said: "This doesn't feel like a real estate transaction. It feels like a conduit to a new way of life." With these values in mind, Johnson created a rental program where many of us can ease into this lifestyle of the 0.01%.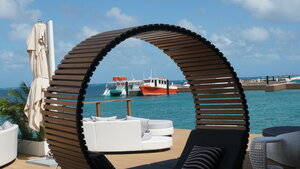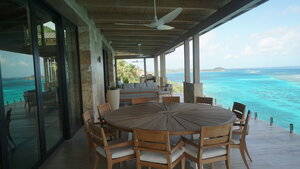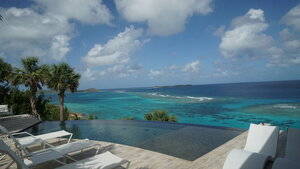 The Unique Features
Yes, these are 'starchitect' designed villas with sumptuous finishes and wings touching the sea, sublimely isolated (save for a few celebrity neighbors), scenically ravishing, and with a brand new sustainable infrastructure. Yet beyond the luxury, we found a few astonishing features:
No room keys. Safety was at the top of Johnson's wish list, and with no roads leading to this part of the island, a place only accessible by boat or helicopter, crime is virtually nonexistent.

A physician on property 24/7 and a world-class medical clinic. In an imaginative arrangement with Michigan-based Henry Ford Medical Group, Emergency Medicine doctors live on the property for two-week shifts. They're here because, in this isolated spot, the first hour is crucial for the treatment of illnesses like heart attacks and strokes, as well as to provide a comfort level for prosaic problems such as kitchen accidents and the flu. Johnson has also put more than $250,000 into a state of the art medical clinic, which physicians say is superior to many regional hospitals. Doctors like Melissa Taylor and her husband, physician's assistant Michael Uhlig, who were here for the second time during my visit with a third stint planned for May, vie for this posting. "It gives us a break from the snow up north along with the opportunity to help locals in need," Taylor points out, "with a lot more luxury than Doctors Without Borders!"
We stayed at Poseidon's Perch, a four-bedroom 2,508 square foot sea-view villa that sleeps ten. The dramatic Great Room squarely faces the sea, and when the wind picks up, the house emits a haunting whistle
Click the video to Poseidon's Perch!
that conjures an image of hanging from the mast of a pirate ship. With its private infinity pool and Jacuzzi, Tiki Hut outdoor lounge, and expansive terraces on every level for alfresco entertaining, this villa rents for from $2,650/night in low season to $3,650/night in high season.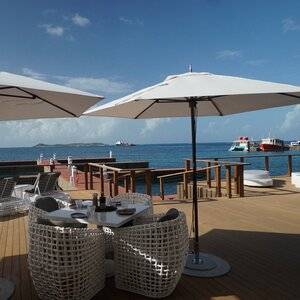 Debae's poolside Beach Club
To dine you can request a private chef or have Guest Services provision your kitchen with anything you desire, but don't miss the imaginative cuisine from Chef Elio Debae at Oil Nut Bay's restaurants. Previously Executive Chef at Cotton House in Mustique, 32-year-old Debae applies his Michelin-star
training to local products, enjoying the first pick from fishers who land on a nearby beach. Debae's poolside Beach Club has traditional fare with inventive twists such as Kale Avocado Salad, as well as an Al Forno pizza oven. Nova restaurant, jutting out over the 93 slip marina favored by mega-yacht owners, has an eclectic menu that includes West Indian flatbreads, salt-baked heritage beets, and a whole dramatic head of cauliflower burnished in a copper pot and laced with pomegranate seeds. The entire menu is designed for sharing, which Debae feels promotes bonding, and "there's no better place to get people together," he declares, "than at the table."
Beyond the expansive slate of water sports such as snorkeling, sailing, kayaking, deep-sea and fly-fishing, along with hiking trails and tennis courts (with partners available), Johnson's multigenerational concept pays special attention to children.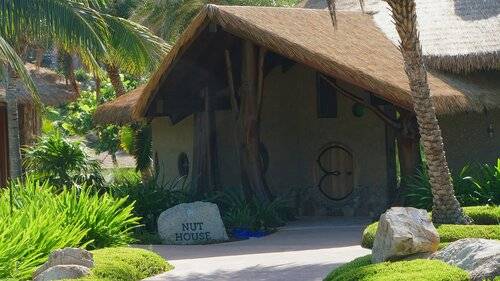 The 'Kids Club' is located in a fantasy-inspired Nut House
The 'Kids Club' is housed in a fantasy-inspired Nut House with program directors trained to lead toddlers, tweens, and teens on island adventures where they learn to appreciate such natural phenomena as local flora and fauna, migratory patterns of humpback whales, and the delicate coral reef.
For visitors with a literary bent, there's an astonishing library. I got lost in volumes about indigenous life such as Local Island People and Culture of the Caribbean World, classics like Faulkner's The Sound and the Fury, and couldn't resist children's fare that includes The Big Book of Swashbuckling Adventures: Classic tales of dashing heroes, dastardly villains, and daring escapes.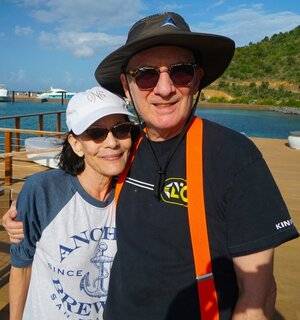 Writer, Janet Forman, Photographer, Tom Houghton
The dress code is T-shirts and gym pants. I learned this the hard way when my luggage went into the ozone for our entire stay. Limited to flying attire of gym pants and sneakers, enhanced by a few comically oversized tops when my husband's bag finally arrived 24 hours later, I realized no one looked twice when I appeared for dinner sporting this 'ultra-casual' look.
My dining companions --- villa and yacht owners --- were dressed in much the same manner: Not a designer label in sight. True to Johnson's vision, he states, "This is not a place to show how rich you are."
The Developer and Travel Visionary:
David V. Johnson.
"The uncommon business model of an unorthodox real estate developer ."  
This homey tone is set by developer David V. Johnson, who spent a decade searching for a place where profit could take a back seat to creating a circle of like-minded souls seeking more profound relationships with friends and extended family. Johnson traveled to 13 countries talking to government officials, cooks, and cab drivers looking for a spot where natural beauty was unmarred by crime or corruption, to develop a family-friendly, carbon-neutral community where homes blended with the landscape and became part of each family's legacy. He found it on the isolated North Sound of Virgin Gorda, a pristine locale rubbing shoulders with Sir Richard Branson's Necker and Moskito Islands.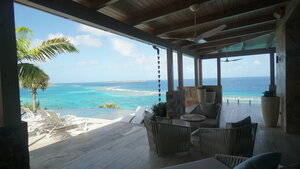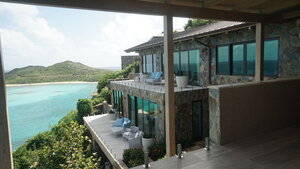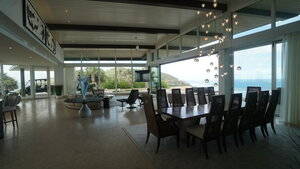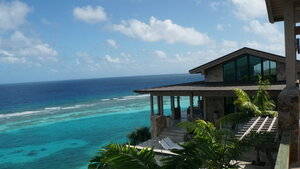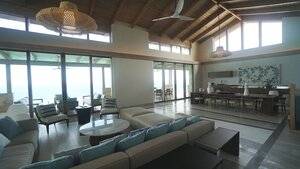 The motivation for this unusual business plan: A broken neck.
Johnson comes from hardworking, determined stock. His grandfather, who emigrated from Sweden, taught him the value of hard work. His mother went to college in her sixties and graduated Magna Cum Laude at age 64. And his father taught him that the only consistency in life is change: If you can navigate change, his dad maintained, you can prosper. This contributed to Johnson's simple recipe for success: "Persevere when you're at the bottom and don't believe your own press releases when you're at the top."
A turning point for Johnson came in 1978, when he was 29 and already the largest developer of single-family homes in the Midwest: A swimming pool accident broke his neck and left him likely to be a quadriplegic. Long months in the hospital and rehab, where he finally regained movement in his upper body and legs, also brought a sea change to his attitude. 'Success' had a different meaning to him now: It became a state where financial wealth was less important than mental, physical, and emotional health, and Johnson vowed that each new development would put these qualities in prime position. He focused on creating communities that could bring the generations closer and as a result, create a new way of aging. Not that any of these changes slowed Johnson's pace, as today he has 43 developments to his credit, the latest ones with sustainability in the forefront.
Johnson feels there are two types of people in the world, those that focus on what's not possible and those that think in terms of what could be possible: These are the people that achieve big dreams. For Johnson, one byproduct of doing something that has never been done is inspiring other entrepreneurs to do the same, and by doing so, he feels, "the world becomes a lot more interesting." Indeed, Johnson spends time each January as Group Leader for a Harvard University program where top CEOs inspire one another to disrupt their industries, build efficient empires, and keep thinking big while staying on the cutting edge of their respective businesses.
Yet, while these developments are decidedly high end, Johnson doesn't want them to scream 'wealth,' wisdom that came from his daughter, who was embarrassed to tell others that the family owned a private island in Michigan. So, he created a rental program where many more of us can enjoy the 0.01% lifestyle. The Penthouse, Middle Cliff Suite, The Beach House, Cheemaun Beach Villa, and Villa Agave properties are handicap accessible.
On the eastern tip of Virgin Gorda, Oil Nut Bay is accessible only by boat and chopper after a puddle jumper plane ride (unless you're flying private). Traveling there can be half the fun until your luggage gets left behind, in which case, embrace your sneakers and gym pants. No one will mind.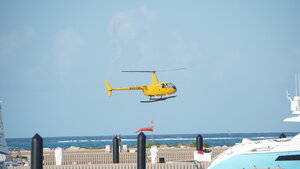 From North America, you can connect through San Juan, Puerto Rico (SJU), then take a local carrier to Terrance B. Lettsome International Airport (EIS) on Tortola. Once in Tortola, Oil Nut Bay can arrange transportation from the airport to the ferry dock (5 minutes) and a private ferry transfer (35-45 min) to Oil Nut Bay. You can also charter a helicopter to fly directly to Oil Nut Bay (approximately 10 minutes).
If all goes as planned, this fall, two and half hour nonstop flights will be available from Miami to Tortola!
Reservations: www.oilnutbay.com 1 800-761-0377 +1 284-393-1000 reservations@oilnutbay.com and all rental rates include daily housekeeping.
---