Catskills for a weekend...
I met Sims Foster a decade ago through a confluence of friends and work when he was the rising star of a high-end, boutique hotel group. His professional mandate was opening restaurants with celebrity chefs, and I was both impressed with his intuitive knowledge of the field and thrilled by the passion he poured into his work. I was also secretly charmed that he hailed from the Catskills region so close to my grandparents' hotel, Forman's Manor, where I spent my childhood summers. "Note to self," I said: "This is one to watch." A few years later, I wasn't surprised to hear that Sims was setting out on his own, teaming up with his wife to develop properties near his hometown. After staying and dining at one of his first hotels, I knew he was on the road to creating something very special by pulling threads of the past into the future. Clearly, Condé Nast Traveler agrees, placing his newest property, The DeBruce, on this year's highly selective Hot List.
---
"An Eyewitness Account of The Catskills' Journey from Borscht Belt to Love Beads to Locally Cured Bacon"
Whether it finally comes to be called the New Hamptons for its swank second-homes, or the Anti-Hamptons for its Brooklyn, boho vibe, few of us who recall the Catskills' Dirty Dancing era would think of it as a place where style trends are born. In those years, when the resort area, a two-hour drive north of Manhattan, was known as the Borscht Belt, in those years when gribenes, fried chicken skin, was deemed a culinary delicacy, and in those years comics dropped their pants in one of entertainment's less-evolved punch-lines, this province seemed more like The Land Taste Forgot. I come by these rather ignominious insider details firsthand, as I spent early childhood summers at my grandparents' Catskills hotel, Forman's Manor, a playground for the wave of early 1900s Jewish immigrants who had finally secured a toehold in America's middle class.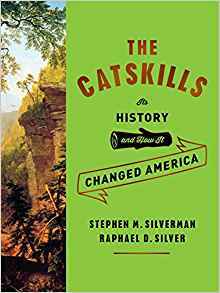 Yet until I picked up Stephen Silverman's book, The Catskills: Its History and How It Changed America, I never realized this region had been influencing American culture for centuries. It predated the Wild West as the New World's first frontier, the setting for James Fenimore Cooper's The Last of the Mohicans. Reports of local witchcraft inspired enduring folk-figures like Washington Irving's Headless Horseman and Rip Van Winkle. During Prohibition, the deep woods and fast running-streams became popular spots for gangsters like Legs Diamond, Dutch Schultz, and members of the Murder, Inc. crowd to stash contraband hooch, along with a few bodies, conveniently close to resorts where their families spent the summer. If the Catskills is best known as a starting ground for some of America's most popular, twentieth-century entertainers from Mel Brooks to Woody Allen and Jerry Lewis to Jerry Seinfeld, who even then showed his grasp of cultural trends by sporting an up-to-the-minute mullet, it's because the Borscht Belt era bred a distinctive brand of Jewish humor: ironic, irreverent, and rooted in the cultural misunderstandings, miscalculations, and malapropisms of the immigrant experience.
Still, Silverman observes that the most important quality of resorts from that era, the 'all-inclusiveness' displayed in the sprawling Grossinger's and my family's more modest Forman's Manor which put opulent dining, athletics, entertainment, and shopping all under one roof, serves as the DNA for present-day tourism phenomena like cruise ships and modern Las Vegas. If "What happens in Vegas stays in Vegas," the Catskills of that time was also a place where new identities could be forged.
A Personal View of The Borscht Belt
The property was cheap in these hills 100 miles north of Manhattan's crowded Lower East Side, and, here, Jewish immigrants, like my grandparents who were forbidden to buy land in Eastern Europe, could finally afford a few acres of their own. First, they tried farming chickens and dairy, but, a few years later, they saw a far more lucrative opportunity: hosting their city-dwelling compatriots who sought a breath of country air.  
These budding hoteliers intuitively knew bountiful food was the key to attracting guests, since setting out more than any human could consume was a testament to just how far these immigrants had come in the New World. I recall my grandmother summoning the stamina of an Olympian by rising at three a.m. to stoke the ovens. By the time I arrived at breakfast, she was already basting a battalion of chickens for lunch and rolling rows of cinnamon rugelach for dessert. In a curious foreshadowing of the future, Silverman also notes that the public faces of many Borscht Belt hotels were female such as: Jennie Grossinger, Helen Kutsher, Lillian Brown, and my grandmother, Ida Forman, all women who modernized and marketed the concept of the Eastern European balabusta, the 'perfect homemaker.
"A bohemian past foreshadows a hipster future"
Beyond its own brand of proto-feminism, the Catskills also had an honorable bohemian past. It began with the 19th century Hudson River School painters, iconoclasts more inspired by the wild American landscape than European formal gardens. By the early 1900s, Utopian living colonies appeared including Byrdcliffe, an institution that survives today as a center for the arts.
Blacklisted entertainers of the 1950s, such as Zero Mostel, took refuge here with sympathetic souls, and, by the 1960s, the region was home to activist performers like Joan Baez and Bob Dylan, advance guard to the 400,000 Flower Children who attended the cultural zeitgeist known as Woodstock's inception.
Today, the mountain towns around Livingston Manor look like a branch office of Brooklyn's hipster brand, more under-the-radar Bushwick and Bed-Stryversions (Bed-Stuy) than scenester Williamsburg, where men sport the beard du-jour, warm cocktails are served in jam jars, and farmers' markets are populated by artisanal cheesemakers and bakers. Young chefs have migrated here from Michelin-starred restaurants for the chance to work with farm-to-table eggs and just-pulled root vegetables, and arty types gather at local craft breweries, distilleries, and 18th-century style cideries without the danger of police raids this time.
The most imaginative developers in the modern Catskills maybe Sims and Kirsten Foster. Sims started as a local boy who rose to a senior management position at Commune Hotels, a group of prestigious brands led by John Pritzker, a member of Hyatt Hotels' founding family. Seeing potential here, the Fosters have recently opened four trend-setting properties: The DeBruce, the newest one with 14 rooms on a ledge overlooking the Willowemoc Valley, which just hit this year's Condé Nast Traveler Hot List, Nine River Road, an eight-room riverside retreat near the town of Callicoon, Arnold House, possessing a piney, Scandi-cool vibe, and the North Branch Inn, restored to echo the building's 1868 roots with Edison-style filament light bulbs and a two-lane, wooden bowling alley with handset pins. Fashionably retro-fare, the Bar Room restaurant uses local ingredients like nutty wheatberry, topped by a blazing orange, freshly-laid egg, and the breakfast buffet is piled with home-baked English muffins and nuggets of house-made granola. Foster's properties represent the next bend in the cultural road; as he tells Silverman: "We've swapped gefilte fish for locally cured bacon."
And while Foster is looking to the future, where he sees the Catskills becoming a year-round destination, like Switzerland, he seems most inspired by its present state: a blank slate to be shaped by the next generation. "You won't find perfection," he admits, "but the people that come here like that. They're comfortable with the heterogeneity of rural people next to city dwellers up for the weekend or with getting lost and exploring country roads because there's no direct train. They come because it's a place where people would rather share a bottle of beer in a tavern than watch TV."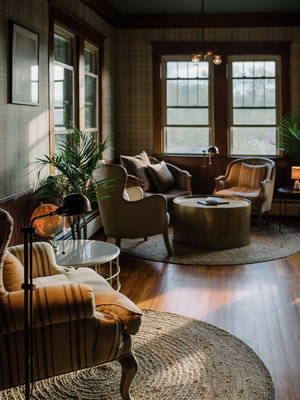 If the heyday of the Borscht Belt Catskills faded when my generation could hop planes to Europe for the summer, some of us are now returning. We're not seeking refuge from the steaming city streets like our forebears. Instead, we're coming for the qualities that summoned the 19th century Hudson River School painters: pristine views, abundant local produce, and the companionship of like-minded souls. "It's not yet for everybody," Foster allows, "but for those who get it, it's ideal."
Eating and Sleeping
The new wave of stylish places to dine, drink, and sleep is anchored by four hotels from husband-and-wife team Sims and Kirsten Foster.
The DeBruce. www.thedebruce.com 982 Debruce Road, Livingston Manor, NY 12758 info@thedebruce.com Just recognized by Condé Nast Traveler as one of the best new hotels in the world. Sitting on a ledge overlooking the Willowemoc Valley, some of 14 guest rooms have claw-foot bathtubs and offer expansive views of the Willowemoc Valley and River. Rates include Breakfast & Dinner.
History: Originally built in the 1880s, the hotel has gone by many names over the last century, most recently The Debruce Country Inn, and preserves its historic atmosphere. The Conservatory public space still has its original fieldstone fireplace made from Willowemoc River stones where a comfortable reading chair, a book, and perhaps a whiskey can enhance the roaring winter fire.
Activities: Guests have access to groomed hiking trails across 600 acres of private land spanning two mountains, ½ mile of private river, fly-fishing rights with an instructor on hand for newbies, several ponds, and a private pool. Other pursuits include birding, snowshoeing, cross-country skiing, and an on-premise spa. Resident guide Bruce Pollock is available for foraging and hiking trips.
Aksel Theilkuhl
Cuisine is in the hands of Executive Chef, Aksel Theilkuhl, a protégé of Chef Laurent Tourondel. Theilkuhl takes special pride in the area's heritage ingredients and leads guests on foraging trips. Breakfast is a full a-la-carte menu and dinner is always a multiple-course menu with one 9-course tasting menu each week. The glass-walled main dining room is a 32-seat, floating jewel-box overlooking the mountains and valley below with a wood-burning Franklin stove. In summer, the glass walls open and transform the dining room into a suspended, open-air experience. The Club Room is a less formal dining venue with a fieldstone fireplace, intimate seating, and a bar where guests and locals gather after sunset or during a snowy, winter afternoon. Salvaged flooring from local fallen hotels lines the walls and preserves the spirit of this area's hospitality.  
The North Branch Inn. Northbranchinn.com 869 North Branch Road, North Branch, NY 12766. Tel.: 845-482-2339. This five-room inn combines homey country details like local wildflowers tucked into milk bottles, thick, local yogurt on the breakfast buffet, and stylish amenities such as Malin & Goetz toiletries and Sferra robes. While the menu at the Bar Room restaurant changes daily to source ingredients from surrounding farms, look for the supernal chicken with root vegetables and a slab of hearth-baked bread to sop up the juice.
The Arnold House. Thearnoldhouse.com 839 Shandelee Road, Livingston Manor, NY 12758. Tel.: 845 439 5070. Sunlight streams through the wall of windows at this ten-room inn, tavern, and spa where the woodsy decor has the kind of spare Scandinavian lines that appeal to urban tastemakers. The rooms marry retro kitsch and Indie style with pink sinks and industrial light fixtures, and locals mingle with guests in the downstairs Tavern as they have for the last 50 years. The spa offers yoga, massage, and aesthetician services that use locally sourced ingredients such as milk and honey.
Nine River Road. http://www.nineriverroad.com 9 River Road, Callicoon, NY 12723, 845 887 0042, info@nineriverroad.com
Country Drives
Now that rural artisans are returning to the Catskills, visitors can sample local ciders, spirits, cheeses, and freshly baked loaves of bread along the region's bucolic, two-lane roads. Find a complete list of shops, farms, breweries, and distilleries at purecatskills.com. Following are a few standouts:
Breweries and Distilleries
Catskill Brewery. Catskillbrewery.com 672 Old Rte. 17, Livingston Manor, NY Tel.: 845-439-1232.
Roscoe Beer Company. roscoebeercompany.com 145 Rockland Rd, Roscoe, NY 12776 Tel.: (607) 290-5002
Prohibition Distillery. prohibitiondistillery.com 10 Union St, Roscoe, NY 12776. Tel.: (607) 498-4511. Taste the award-winning Bootlegger 21 NY Vodka in a renovated 1929 firehouse.
Farm Tours
Imagine Alpacas. In Jeffersonville near the Bethel Woods Performing Arts Center, site of the historic 1969 Woodstock concert.
Apple Pond Farm. applepondfarm.com A horse-powered farm where children can milk goats and pet baby lambs. Kids' tours on Fridays and Saturdays at 10 am, adult tours at 11 am
Shop
Callicoon Farmer's Market. sullivancountyfarmersmarkets.org Sundays from May through November, 11 am to 2 pm. All crafts and foods are sourced within a 75-mile radius.
Main Street Farm. mainstreetfarm.com 36 Main Street, Livingston Manor, NY 12758 Tel.: 845-439-4309 Goods from small scale enterprises such as farm bottled milk, fresh eggs, farmstead cheese, charcuterie, house-baked pastries, and meadow-raised meats. Don't miss the elegant ciders from Aaron Burr (aaronburrcider.com) fermented from apples foraged around their Wurtsboro, New York cidery, and milk, buttermilk, and cheese from Tonjes Farm Dairy.
---