How to Live Like a South Seas Castaway (Without Renouncing WiFi)
18th century European sailors risked their lives for more than a year just to glimpse these storied South Sea islands. Once they witnessed the molten sunset, were brushed by the scented breeze, and were embraced by the graceful culture, some abandoned their lives in the West to stay. Twentieth century adventurers were equally enticed. In the 1920s, American James Norman Hall, co-author of Mutiny on the Bounty, led a passionate expat community that preferred nature's abundance to modern technology, and, in the 1960s, when Marlon Brando established a home on Tetiaroa Island after filming this classic sea saga, his circle of Hollywood glitterati, including Elizabeth Taylor, Quincy Jones, and Robert De Niro, was beguiled as well.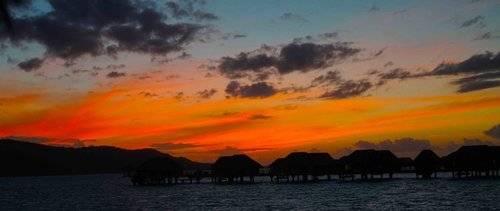 At first glance, today's visitors will find a place quite different from the land Captain Cook or even Marlon Brando encountered. At the high end, The Brando (thebrando.com) on once-rustic Tetiaroa attracts a rarified clientele to its ravishing 1,000 square foot beachfront villas, in part by becoming a model of eco innovation, supporting its own Tetiaroa Research Society. On Bora Bora, the sleek Four Seasons (fourseasons.com/borabora/) is draped in a necklace of overwater bungalows, opulent versions of simple fisherman's huts conceived 50 years ago by three American hoteliers, the Bali Hai Boys. Still, many islands offer simpler retreats. On remote Tikehau, where Pearl Beach Resort (tikehaupearlbeachresort.com) cottages seem to merge with the palms, the closest thing to 'airport security' is innkeepers passing out individually-designed leis to keep track of their guests, and even the worldwide InterContinental chain bows to tradition with richly tattooed bellmen stripped to the waist (tahiti.intercontinental.com). Yet no matter how opulent the amenities, it's impossible to forget that French Polynesian islands are miniscule flecks in the vast Pacific: The sea roars like a wild thing at Kia Ora resort on Rangiroa (rangiroalagoon.com/en/), for despite its soigné service and Riviera style cuisine, that low rasp of ocean rushing onto the sand like the purr of some primeval creature is a clear reminder that as for centuries past on these remote islands, politics, money, and culture bow to the ruling power: Nature.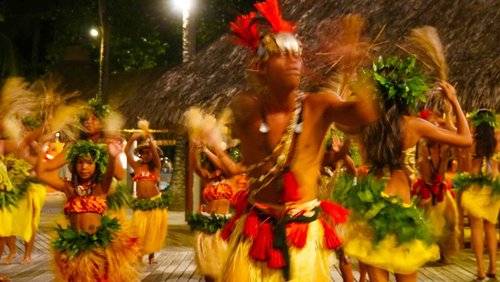 The Brando
Before we even talk about the private pool on its own stretch of secluded beach, the outdoor bath surrounded by palms under the velvet night sky, or the Frette robes and state of the art sound system filtering through the 1,000+ square foot villa---and that's the modest one-bedroom---the bank of solar panels lining the runway on tiny Tetiaroa Island is your first clue that luxury trappings are just part of why The Brando has become a magnet for the eco conscious affluent.
This coral atoll was a sybaritic retreat for Tahitian royals long before Captain Cook blew in. However, by the time Marlon Brando arrived in 1960 to film Mutiny on the Bounty it was in a sad environmental state. While Brando hoped to revive the islands, he had neither the cash nor the knowhow. So, he partnered with hotel developers Pacific Beachcomber (pacificbeachcomber.com) who went far beyond simply creating a 'green' resort. They pulled in scientists to restore the flourishing bird life, banish the damaging mosquitos, and perform the near miracle of revitalizing the coral reef, establishing a scientific foundation, the Tetiaroa Research Society (tetiaroasociety.org/), to carry the work forward.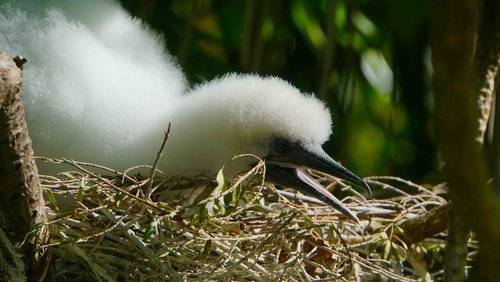 The Brando: An Eco Pioneer. A surprising angle on this billionaire's playground.
The resort is also pioneering innovative eco-technology such as the seawater air-conditioning system and fuel made from fast, renewable coconut oil. "Feel free to run the air con as much as you like," we're told on entering our villa, "it's all carbon neutral." If you can tear yourself away from the private pool and beach, the island's naturalists will sail you around the atoll, guide you through their lab, and accompany you to Tetiaroa's beehives if you dare, since these laid-back bees are permitted to fly freely around the hut. The reward is a finger full of herby honey swiped directly from the hive.
Yes, the rates are breathtaking, between US $3,500 and US $4,000 a night plus the private plane, but by the end of your stay the Brando's groundbreaking environmental work and exceptional privacy---room service, for example, is invisible, delivered to the pool deck via an outdoor path---the sticker shock may morph into wondering if this place has monthly rates. (thebrando.com)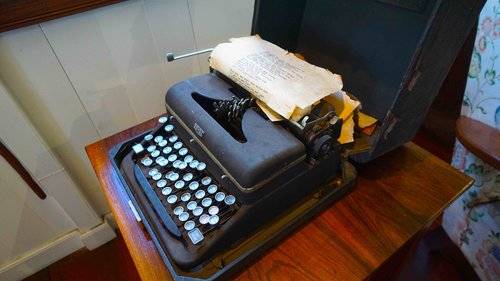 Tahiti James Norman Hall House Royal typewriter with tattered pages
An Unexpected Literary Life in Old Tahiti
It was the honey-spice scent of hibiscus and rattan that whispered "long ago in the tropics…" in the deceptively rustic cottage down-shore from Papeete. As I moved through the uncommon collection of household trappings from tribal artifacts to an Ivy League-minded library to decorations of a Great War fighter pilot, the house took on the air of a wild seafarers yarn, which made perfect sense in this 1920s home of James Norman Hall, coauthor of Mutiny on the Bounty.
I know; who goes to a museum in Tahiti? Only those who crave a firsthand look at the original landing spot of the HMS Bounty, a stretch of ravishing shoreline that so beguiled 18th century seamen they risked death to jump ship and stay. This was also the birthplace of one of my film mentors, Hall's son, Cinematographer Conrad Hall, the font of his distinctive vision for Academy Award winning works such as Butch Cassidy and the Sundance Kid and American Beauty.
In film circles, Connie Hall's ardent homing instinct for Tahiti was an open, near comical secret. One colleague, Gaffer Scott Ramsey, was required to create a week of 'busywork' for Hall during a filming delay when producers feared their DP might bolt for Tahiti. Compelled to find the root of Connie's inspiration, I passed the half-day stopover en route to the Four Seasons Resort Bora Bora in the hamlet of Arue, 25 minutes from Fa'a Airport, amidst wear-creased tropical linens, crumpled typewriter pages, and stacks of dog-eared Atlantic Monthly's soaking up the mise-en-scène of a little known bohemian circle that flourished here a century ago: artists and writers far more intrepid than their counterparts in 1920s Paris, who felt most at home in this secluded stretch of the Pacific.
http://www.jamesnormanhallhome.pf/indexen.html
Further Reading: I don't think fifty people alive today have read Hall's shimmering personal account of his 1920s and 1930s expat life, The Forgotten One and Other True Tales of the South Seas, which is also a shocking account of early twentieth century attitudes and mores. (Out of print, with a few weathered copies available on Amazon.)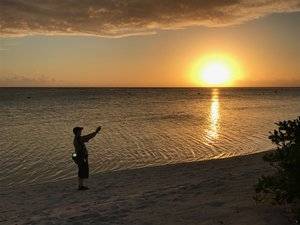 French Polynesia The Brando Tom shooting the sunset
---
Curator's Conclusion:
Do you wish for your tropical visit to make memories dear? Our HipSilver Curators have procured the following products from across our collections to inspire your endeavors. Click the products to purchase or click the following links to visit the Beauty, Accessories, Jewelry, and Lifestyle Collections.
---