The Eco Side of the Alps: A local's secret, for now.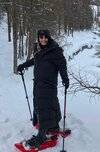 I'm a dreadful skier. And as I learned while reveling in the majestic mountains of Lombardy, I'm not much of a snowshoer either. Still, during the intermittent periods I spent upright --- and even while flat on my back cushioned by a pillow of snow --- inhaling farmstead aromas laced with pine as cold snapped at my cheeks, I felt an adrenaline rush powered by nature.
---
An Insider's Arcadia, for the moment
Little known to habitués of glittery St. Moritz and soignée Cortina are the wild expanses of Lombardy's Alps. A short drive from Milan's Malpensa airport, this humbler mountain region is pristine, serene, and so green-minded its expansive eco-initiatives were key to securing the 2026 Winter Olympics. Yet as that date grows nearer, this low-fi winter sports region will gradually lose its air of a 'locals' secret.' Right now, before the crowds catch on, it is time to visit.
Livigno: Duty-Free luxury goods in the wild
My mountain guide Luca Silvestri is a passionate year-round resident. After receiving his Engineering Masters degree in metropolitan Milan and Geneva, he gazed up at the surrounding peaks and felt compelled to move there.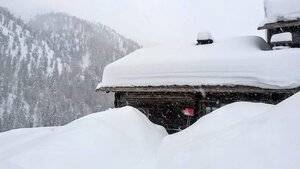 At the most remote point of our snowshoe hike, Silvestri closes his eyes, breathes in the fragrance of winter greenery and cattle to murmur: "I love that smell." Pointing to an isolated homestead far up the hill, he notes: "That's my house. Only four families live in this valley. We have a son, Adriano, who is now six weeks old," he proudly reveals. "I feel he is lucky to grow up here where he can play in the forest with his friends, in contact with nature and pure air, and discover amazing things. I wouldn't live anywhere else," he declares.
"This region around Livigno is magic in winter: All is white and smooth thanks to the snow, away from everything but with everything you need," Silvestri observes. "Of course, when it snows a lot for few days, we need to organize earlier to be ready for any emergency," he admits. "Recently we couldn't move the car and went to the village by snowshoes and skis. My wife comes from Rome, so it's much more of an adventure for her, but she loves this challenging life. Sometimes we have the feeling that the world ends here," he reflects, "so the biggest challenge is to remember that outside Livigno there is a world made of different cultures, lifestyles, and states of mind."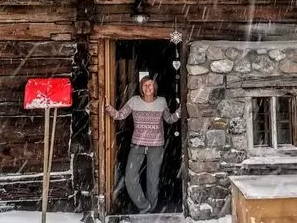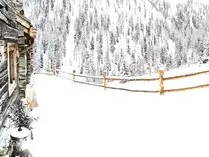 Yet, Livigno has a dual personality, as both a pristine wilderness and a thriving retail center. For centuries, the region was so isolated in winter that few people chose to live here. To lure residents, local authorities granted it tax-free status. The commercial advantages continued from the sixteenth century through Napoleon's reign in the early 1800s, into the Austrian Empire of the 1840s, were confirmed by the King of Italy around 1910, and took their present form as a VAT-free zone in the European Economic Community. Due to this curious tax status, more than 250 Duty-Free Shops have sprung up in the middle of the mountains, and there's an airport-style customs checkpoint at the edge of town, right in the middle of Italy.
Teglio: An Official Città Slow (Slow Town)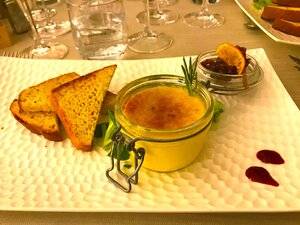 The nearby town of Teglio has a very different character. It has been certified by Città Slow (Slow Towns) (http://www.cittaslow.org/), an organization inspired by the Slow Food movement (www.slowfood.com) as a place that safeguards its historical, artistic, and culinary heritage.
Vineyards grace the surrounding land, many growing the noble Nebbiolo, and rolling fields of rye and buckwheat, principal ingredient for the regional delicacy Pizzoccheri, flat ribbon pasta made of 80% earthy buckwheat flour. The dish is so crucial to a local culinary tradition that Teglio's Academy of the Pizzocchero protects its original recipe, and in 2016 was recognized by the EU as an IGP, a Protected Geographic Indication. You'll find it at nearly every restaurant in the region, most often with Swiss chard, cubed potatoes, and local Valtellina Casera cheese. The pasta is sold packaged in groceries (I filled my suitcase) and is easily made by hand at home, but you really should buy the authentic buckwheat flour here.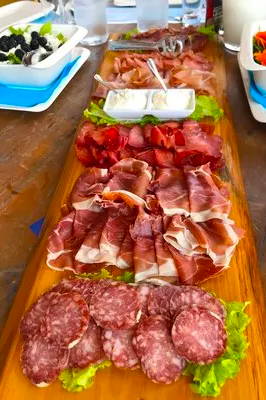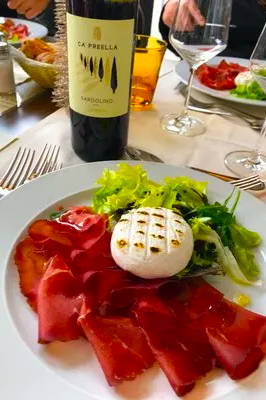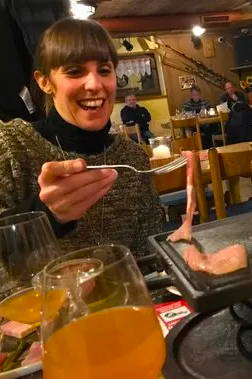 The Ancient Baths of Bormio
One of Lombardy's most dramatic experiences is a visit to Bormio's eerie Bagni Vecchi, the Old Baths, fed by natural hot springs. Legends say it has been a popular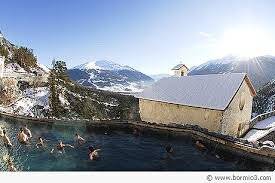 bathing site since the First Century BC, and Leonardo da Vinci lauded the waters in his Codex Atlanticus. At the QC Terme Bagni Vecchi of Bormio, a daylong ticket let us wander through tunnels as if on an underground treasure hunt, from one historic spa to the next. We submerged ourselves in the health-giving Roman Baths, were awed by the Imperial Baths with its Garibaldi pool, and inhaled mineral aromas in the Salt Cave. Still, the most magical experience was the impossible sounding 100-degree outdoor pool where we floated like sybarites overlooking the snow-covered valley in the dead of winter.
Tirano: Terminus of the UNESCO World Heritage Bernina Express
While the city of Tirano has charms aplenty, I made a beeline for the train station, burning to ride the Trenino Rosso del Bernina, the Bernina Express. Honored as a UNESCO World Heritage site for its astonishing engineering, this narrow gauge train route built in 1910 spirals and dips through untouched mountain terrain like a Bond film chase. Running between Tirano, Italy, on the Swiss border, and Chur, Switzerland, this railway is the highest in the Alps and one of the steepest in the world, with 55 tunnels, 196 bridges and viaducts, rising to 7,400 feet across the Bernina Pass, along 76 miles of track.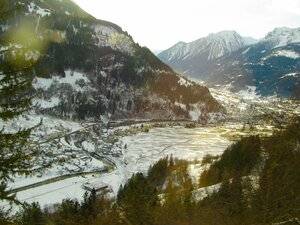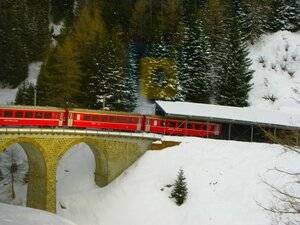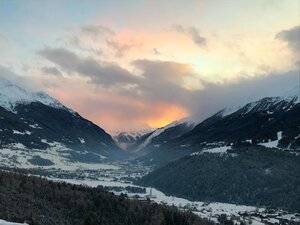 A round trip journey takes about four hours, so you can easily travel the whole route in one day with time to stop at intriguing spots. After Tirano, you are immediately in Switzerland amidst carefully tended grapevines, locals chopping wood or on morning walks with their dogs. Then the train saws through virgin mountains where even intrepid skiers hesitate to tread. We alighted at two stations, the railway's highest point at Ospizio, and at Alp Grüm to lunch at the glass-walled restaurant built-in 1926. After dining on Cheese Fondue and Pizzocheri with cabbage, potatoes, cheese, and garlic, we lingered on the sunny wraparound terrace in shirtsleeves to drink in the snowy wilderness.
Today Lombardy is still the domain of clued in Europeans. While English is widely spoken, an American accent is rare, although that may change once word spreads about the 2026 Olympics. Right now, it remains a unique locale where a devoted resident like Mountain Guide Silvestri can hold fast to his singular dream: "My hope is to transmit my passion for this region to my guests so they also can enjoy the feeling of freedom the mountains can give," he avows. "I'm happiest when they realize some remote dream they never thought was possible."
If you go:
Useful Websites
https://www.in-lombardia.it/en 
Don't Miss
Old Baths Spa: QC Terme Bagni Vecchi https://www.qcterme.com/en/bormio/qc-terme-bagni-vecchi
Bernina Express: https://www.rhb.ch/en/panoramic-trains/bernina-express
Snowshoeing with Mountain Guide Luca Silvestri: luca@globallivigno.com +39 338 917 555 1, Facebook @mountainguidelivigno, Instagram @lucasilvestrimg
Restaurants
Baita Tea Borch: A traditional mountain cabin reachable only by free snowmobile shuttle in winter. After dining on traditional mountain fare like Pizzocheri and Risotto with Bresaola and Sassella, tables mingle for joyful singing and folk dancing. Located at the foot of Carosello 3000. Tel: +39 348 3937 191. https://www.livigno.eu/negozio/Tea-Borch_4115
Alp Grüm Station Restaurant on the Bernina Express: https://www.alpgrum.com
Hotels
Moxy Malpensa Airport Hotel: There's a perfectly good Sheraton in Terminal 1, but the Moxy is foxy! Moxy Milan Alpena http://moxy-hotels.marriott.com/en Milan Malpensa Airport, Terminal 2, Somma Lombardo, 21010, Italy. Phone +390294757100. Located just outside Terminal 2, where you'll also find the shuttle bus to Terminal 1. We found this new concept in lodging offered everything we needed with style, at an unheard of low price. I especially enjoyed the dining model: With no formal restaurant, dinner and breakfast are served family-style for a reasonable fixed price. Dinner is a small choice of hearty imaginative dishes such as chicken tagine, beef rendang, cocktails, craft beers, and specialty wines, and breakfast is an equally generous spread of mountain delicacies. There's also a Grab and Go wall of healthy snacks and beverages available 24/7, a cocktail at check-in, and blazing WiFi.
If you're taking the Bernina Express, try one of the ten new Lifestyle Rooms Binario Zero right at trackside: https://www.saintjane.it/it/dependance-binario-zero/descrizione Designed with ultimate respect for the environment, heating is from a renewable energy source, the ground floor entrance uses recovered wood, and air conditioning has a low acoustic impact.
---