The Shaman's Prophecy: A Shamanic Journey to the Sacred Valley of Peru
By Bibi Jordan
It was just after September, a time associated with opening a new chapter or starting a new course. For a long time, I'd wanted to master an endangered language, and Quechua, the language of the Incas, enchanted me with it's poetic onomatopoeia and 'sound grammar'. I also wanted to finish the illustrations and record the Quechua translation of a children's book I was writing and illustrating about the Inca constellations in the Milky Way. So, when I heard about a Quechua children's dormitory where I could volunteer as an art teacher, I jumped at the chance.
I packed my things in a small carry-on: my camera, art supplies, laptop, Kindle, and two changes of clothes. Was I worried about lack of clothes? Not at all, I was also taking two enormous suitcases of donated items from Malibu friends: 50 pounds of clothing for the women and 50 pounds of art supplies for the children.
From Los Angeles, I flew via Bogota to Cusco, 11,300 feet high in the Peruvian Andes. To allow for a gradual altitude adjustment, I postponed exploring the Inca capital and descended 2,500 feet by taxi to Pisac in the Sacred Valley just an hour away.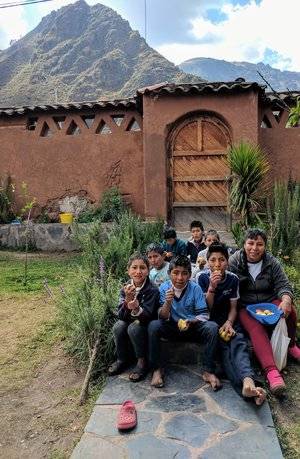 Although the Dormitory is located in Huanca, I based myself in nearby Pisac, drawn to it's famous indigenous artisan market, Inca ruins that rival Machu Picchu, and alpaca-weaving villages. I stayed at 'Casa de Adela', a Quechua-family-run AirBnB where I was grateful for the host's knowledge of herbal remedies for altitude queasiness (coca tea), insomnia (lemon grass tea), and 'traveler's trots' (pomegranate shell and avocado seed peel tea).
The next morning, I squeezed myself and the two enormous suitcases of donations into a 3-wheeled, motorbike taxi for the hour-long ride to Irqichay ('Sweet Child') Dormitory in Huanca. "Sweet Child' is the brightly painted adobe home that Malibu-based charity Sacha Munay set up 2015 to provide room and board for 18 children aged 8 -16 from far-away mountain towns who previously had resorted to sleeping in abandoned buildings to attend school.
Upon my arrival, the two Dorm Mothers corralled the 18 children between 8 years old. Rambunctious after a full day of school, they fell silent with anticipation as I rolled in with a suitcase bulging with art supplies and a head bloated with lesson plans (and coca leaf tea).
My role was to teach the students, but I quickly learned the students would be teaching me. For example, I had already taught myself the Quechua word for 'reciprocity', ayni. But, now I experienced this word, a mantra that resonates with sacred vibrations.  
Like the Sanskrit word, OM (or more correctly AUM), ayni consists of three syllables. The first is the universal exclamation of awe (Ahhhh!) that starts at the back of your throat, vibrating the solar plexus and chest. The second syllable is 'Y', pronounced as a prolonged 'ee', an utterance that rolls forward along the upper palate, vibrating the throat. The final syllable is NI, a sound made by the tongue gently vibrating the top of your throat followed by exhaling your breath into the Universe.
Just as everything in the Universe is pulsating, the Quechua believe when we say 'ayni' we are symbolically and physically tuning into the vibration of the Universe and acknowledging our reciprocal relationship with all other living beings, nature, and Pachamama.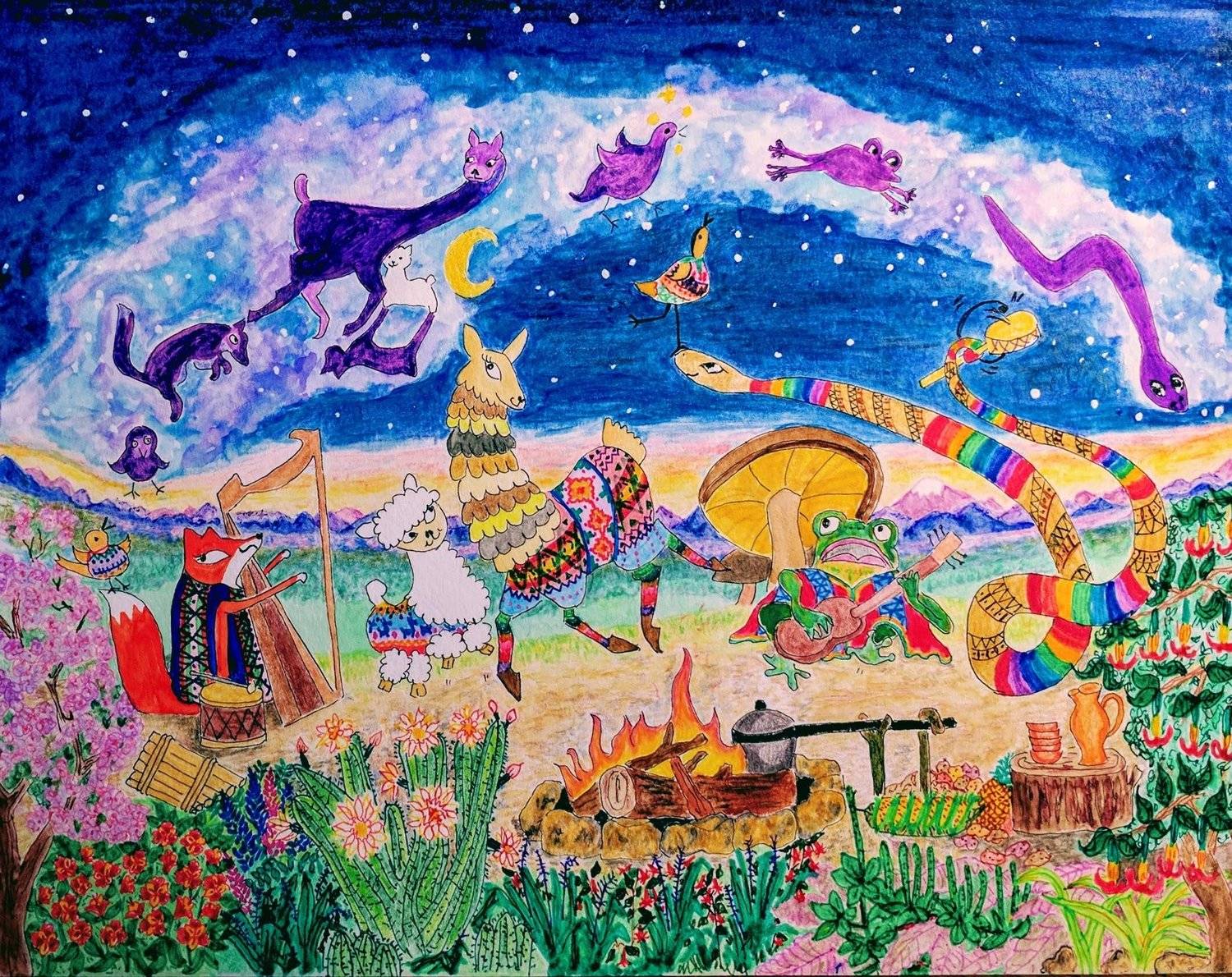 However, all my 'ayni' intentions quivered as 18 children scrambled to start their own creations with the supplies spilling from my suitcase. Overwhelmed, I turned my back on most of them to focus on the only two children eager to follow instruction. But, an hour later when we joined the other students, I was stunned by the others' brilliant interpretations of my idea.  
I had come to 'teach' them art based on my book illustrations, and they had taught me to envision the Andes scenes with new eyes. Together, they imbued the project with such boundless energy and profound gratitude that I pulsed with happiness. In English, 'reciprocity' is a word signifying a transaction between two people; in Quechua, 'ayni' is palpable emotion reflecting the reverberation of two hearts helping each other.
Ayni become the guiding principle for my journey in the Sacred Valley. Just as the children ignited ideas for my book's illustration, I realized they could help me translate my story to Quechua. But, as I recorded each children translating a page of my story book into Quechua, I recognized Spanish words being substituted for basic Quechua words like 'moon' and 'stars'. By providing them with room and board in town so they could go to school, were were isolating them from the native language and culture. It smacked of the forced assimilation of America's "Indian Residential Schools" of the 1870's who sought to "Kill the Indian and save the Man" through education.
Would my Malibu friends donate to pay for a Quechua tutor? Yes, one did, but with the caveat that the teacher would be a Quechua story-teller. Quechua, she pointed out, is not a written language; it is an vocal language. In the Northern Hemisphere, we esteem the written word, but many indigenous cultures revere the spoken word. A story told around a fire, they say, is ignited with life; written in a book, it is robbed of energy. However, these oral cultures like the Quechua-speaking people do have graphic representations of folklore not with print but instead with weavings, dense with symbols and colors that record rituals and commemorate events for future generations.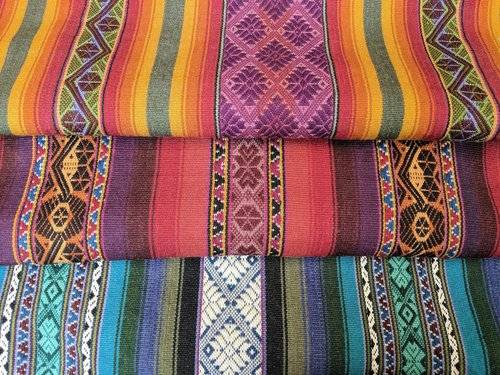 Eureka! Here I was translating from one 'written-language' into another 'verbal-language'. Why not also tell the story using that culture's graphic representation of language? I decided to commission the children's mothers, all weavers, to weave chumpis, alpaca-wool belts rich with symbols traditionally worn by women to fasten their skirts or to adorn their hats. I arranged for each woman to design a chumpi that told the story with traditional Inca symbols of one illustration which I could then use as a colorful border for the facing page of my text.
Yet the real fascination of these woven works of art is that they have meaning, intention, and energy. Each is a depiction of how the weavers interpret the story I am telling, bringing it alive with their energy, will, and magic, making the chumpi a perfect way for me to consecrate my book with the Quechua spirit.
This epiphany transformed both my book and my entire trip. From reading about Quechua culture, I became immersed in their life. On repeated trips to the mountain-top village, I sat with the ladies for hours, choosing the colors of their yarns, concurring on the symbols, trying my hand at hand-spinning, observing them swaddle their babies, watching them herd their alpacas, listening to them speaking Quechua, and sharing with them an unlimited variety of fire-baked potatoes of every hue of the rainbow.
I discovered that the obsequious coca-leaf tea accompanying all these activities was magical for more than reducing altitude sickness in the mountain villages where we gathered. It also suppressed the appetite, so I was slimming down and climbing up slopes like a mountain goat. But, the magic didn't stop there. My weaving sisterhood resolved that delivery of the finished weavings would include a shamanic ritual based on coca leaves.
So on the last day of my trip, we gathered in a circle with Wilma, a 3rd-generation shaman from the Qu'ro people who claimed to be direct descendants of Inkarri, the the giver of knowledge and founder of the Inca civilization. As we drank coca leaf tea, Wilma sprinkled shiny grey-green coca leaves onto the a liklla, a brightly woven grounding cloth resplendent with symbols upon which sacred rituals are conducted.
"You will live a long life, you will travel widely, you will cultivate a community of intrepid women seeking you for healing purposes," she read in my leaves. All sounded good until she looked me straight in the eye as she pronounced "Your business runs well, but you must develop now a new independent income stream to sustain you."
Far from being alarmed, I was energized by the reading. My AirBnB business had manifested into everything I had wanted: 4 rooms inspired by my travels, a Safari Tent, a Mongolian Yurt, a Tiny Japanese Tea house on Wheels, and a Zen retreat. I'd also created a profitable and enjoyable business serving organic meals cooked from scratch from biodynamic vegetables I grew in our organic-certified orchard of Meyer Lemons. In the past two years, I'd upped the ante by gambling on the benefit of hosting young farm volunteers and providing refuge for homeless and immigrant workers. And, just two months ago, I had found the perfect assistant, a professional massage therapist, vegan chef, and fitness coach, willing to operate the business in exchange for accommodation, freeing me up to travel, volunteer, and create. In fact, I had already started to formulate how to use my new freedom, including embracing my role as a Travel and Lifestyle Curator for HipSilver.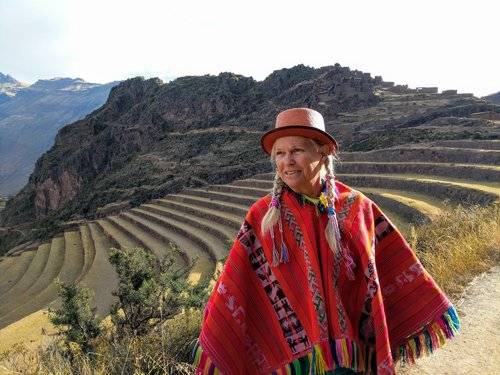 We proceeded to the second part of the ceremony, the Despacho. We were instructed to fashion a series of trios, perfectly formed coca leaves adhered with llama fat and adorned with a single flower petal. We were to make one for each negative force we wished to release and one for each positive attribute we wanted to manifest.
I wanted to release fear, procrastination, and subsurvence. I wanted to reveal creativity, community, and ayni. I wanted to expand my horizons, literally and figuratively. I had become "grounded" in all senses as an AirBnB owner. Now, I wanted to take to the air as HipSilver's Resident Nomad. In these Silver years, I wanted to treat myself and others to the transformative power of travel. I wanted to enrich my livelihood as an AirBnB host/chef with adventures as a photographer, writer, linguist, and artist. From Malibu Superhost, I would become Nomad Chic.
These were the emotions I infused into the leaves and blossoms laid down with the others. Together, we created a mandala enlivened with sugar, salt, tobacco, chocolate, cotton balls, and charcoal sticks all wrapped up in colorful paper to be burned at midnight on the top of a mountain.
I left the next day with my little backpack of art supplies and a few clothes. The two big suitcases were restocked, one filled with drawings from the children and woven belts from my weaver sisterhood and the other filled with finely woven alpaca hats, ponchos, and blankets made my new friends for me to sell in the States to raise money for them. My head brimmed with visions, and my heart burned with confidence for an enhanced direction forward.   I have collected a few items below from the journey for you in the carousel - click the image below to shop.
---