I bought this home some years ago with my husband Murray and ever since it has been a personal haven. I've walked about the island more times than I can count and have met some of the most lovely people along the way, including friends, business owners, and brands that capture my personal motif "simple elegance" when it comes to their island style. We have been sure to weave these folks, their Caribbean imports, and stories into HipSilver because making it impossible for me to share a little piece of paradise with all of you.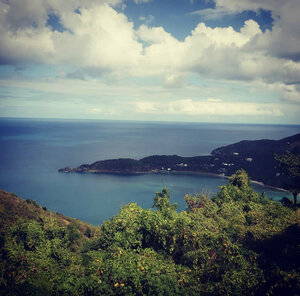 Recently, I went to Tortola with my Daughter and two granddaughters and shared a wonderful island experience while enjoying the holiday week. I feel so comfortable being surrounded by those I love and a beautiful place. Tortola is the simplicity, the vibrancy of the surrounding nature, and the warmth of the people. Our Resort Curator, Claudia Colli (also a lover of the BVI) has pointed us in the direction of Trèfle Designs and HiHo Sportswear, both local businesses. So when I saw Trèfle's colorful nature-inspired resort wear collection of dresses and HiHo's dignified linen and beachy cotton outfits. I thought to myself: "these brands capture the spirit of the islands".
Not to mention, Kristen Frazer (founder of Trèfle Designs) and Andy Morrell (founder of HiHO) are the two kindest and most thoughtful people you could meet and it shows in the care that goes into their island-inspired products.
In the same way, that I love to bring the island back to New York, I like to bring a little New York style to the beach. I like to pack in my bag is my essential layering piece, Sleevey Wonders. They helped me transition my outfits between the drastic temperature differences, and my favorite part, they helped me create a classy Caribbean-ready look by adding them to my bathing suit. Before loading up for my trip, I reached out to the Sleevey Wonders designer, Ruthann, and asked about how durable the sleeves might be when it came to water and swimming. She said, "sleeveys are machine washable, so they can easily withstand the exposure to water, and the material shouldn't be damaged by the chlorine!" This was so exciting that I incorporated them into my beachwear wardrobe.  I am wearing my 3/4 Sleevey Wonder under my swimsuit in Tortola.
HipSilver is not only a community that shares ideas with one another, but also shares learn tips in style no matter the occasion or the miles. I'm very grateful to have my BVI friends on board and making it feel like summer all year round.
Happy Travels, Silvers!
---