Introduction to Yoga Moments with Susan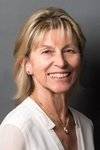 A year ago I saw an ad for a two-week discount trial membership at Goorus Yoga in Pacific Palisades. I decided to check it out as my favorite Kundalini Yoga teacher in LA, Guru Mitar, and also the cherished Iyengar teacher, Larry Hileker, were teaching there.
Midday on a Wednesday, I walked into a room of 20 folks all perched in a circle on chairs, trying something unlikely: chair yoga, usually reserved for the elderly, the infirm, the injured, and folks with severe balance issues. I say unlikely because some participants were younger than I would have predicted; others seemed ageless and quite fit. I found out later that our group ranged from a very young caregiver accompanying a curtailed client to a woman well into her 90s who had severe dementia, which was "suspended" when she went through the intuitively and athletically pristine moves designed by instructor Susan Cambigue-Tracey. When she is in Susan's class, she can do amazing physical things like sitting in a chair and passing a large ball over and under alternate legs, one of the "exercises" offered in one of Susan's videos. To see someone with Alzheimer's maneuver a softball hand-to-hand over and underarms and legs in an intricate pattern was astonishing and so heartening.
Susan Cambigue-Tracey is beautiful; she's creeping up toward 80, and you'd never guess that. She was trained in dance therapy and had been a professional dancer, arts-writer, and performer. Turns out her writer/entertainer husband was in the group a regular. I found out that Paul Tracey and Susan held open mikes at their beautiful home in Pacific Palisades, in a studio by day and a "theatre/salon" by night. They desire to allow folks to be "heard and seen" in movement, word, song, and all manner of artistic and creative expression! Then, there is their palpable dedication to getting and keeping everybody moving, for life.
Susan instructs at Goorus, privately in her home, and elsewhere. She teaches in the Los Angeles School District and extension programs at local colleges, working out and giving healthy body awareness to kids of all ages. Best of all, she empowers the aging to be educated and well in mind, body, and spirit. She is also an arts writer and event facilitator. I whole-heartedly endorse her book LIVE YOUR NOW!, a simple meditation inspired by the Seven Chakras & Gratitude.
Susan has even helped this curtailed gal to get in touch with some rhythmic movement, making her stronger and giving her some new cognitive pathways - pretty super no?
Plans are underway to offer her products for purchase, from books to props to videography, including online classes and lectures. HipSilver has been chosen as a primary outlet for all things Susan Cambigue-Tracey.
---
HipSilver is proud to introduce Yoga Moments with Susan, a comprehensive series of yoga-based exercises and techniques designed for all mobility levels. Drawing on her extensive background in dance, education and yoga, Susan has integrated her life skills episodically to show us proven ways to maintain our health, in body, mind, and soul. Each Yoga Moment is built around a clearly conveyed thesis. They all feature exercises, stretches, and meditations which anyone can do at any ability level. Her innovative approach calls for chairs and everyday objects to provide support and balance for us when needed. Susan's techniques are being successfully used by those who wish to maintain mobility as they age, those who are recovering from injury, and people who are otherwise unable to perform traditional yoga moves. We hope her knowledge and experience heals or otherwise helps you.
---
About Susan Cambigue-Tracey
Susan Cambigue-Tracey has collected an impressive list of credits over 55 years as a dancer, arts education administrator, writer, nationally recognized dance artist, and educator, creative thinker, and certified yoga instructor, RYT500. After retiring, she continues to work part-time at the Music Center of Los Angeles County as Director of Special Projects. For 25 years she has created artistic collage works and original jewelry. Her Jeweled Tree Empowerment Collection includes necklaces, bracelets, and earrings made from a variety of beads, metals, charms, and gems. Currently, she teaches Level 1/2 flow and chair yoga (grounded in Lakshmi Voelker Chair Yoga style) at Goorus Yoga studio in Pacific Palisades, California. In addition, she teaches classes and private sessions in yoga and Life Coaching in her studio. She and her husband, international musician, songwriter and storyteller Paul Tracey, also host inspiring artistic salons several times a year in their garden and studio. - Amazon: About the Author
---